How awesome! At last and above all "Ahh", by Myylo. The debut album we have been tracking through out 2022, is finally out! This is a release I have anticipated on the blog since Myylo first showed up with the power-pop anthem "Being Born Kinda Sucks", in February. It has been quite a year for the singer-songwriter. One where each passing month, more lyrically captivating teaser tracks appeared. "Abercrombie and Fitch Boy", "Tally Ho", "Cling On", "Pink Boy Heart", and "Haircut". Accordingly. And also, to complement these releases were his unique and endearing style of DIY music videos. Where in these, Myylo was more often seen goofing around in them. Acting up charmingly and adorably.
As the countdown to the album release continued. We learned along the way that the body of work was not entirely a concept piece. But rather. It is a project consisting of snapshots that is written about same-sex relationships and dating.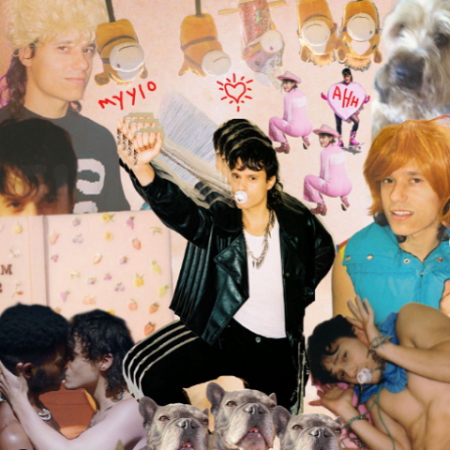 In the album "Ahh", he ruminates on an existential crisis, "Being Born Kinda Sucks," and dreamily crushes on "Abercrombie & Fitch Boy". Waxes lyrical about hooking up "Tally Ho" and kissing hot boys, "Cling On". In the track "Pink Boy Heart," he revealed his softer side. Here he expresses his desire for warmth, tenderness, and intimacy with another man. On "Haircut," he imparts a brilliant mix of whimsical repartee and melancholy feelings in equal measure. Tracks "Reservation" "Dogs Shouldn't Die," and "All Gays Go To Heaven" complete the line up. When all of the above is combined. "Ahh" shapes up as undeniably brilliant. An unskippable record. That reminds us of the importance of being our unapologetic selves.
Lastly, in particular I wanted to take a deeper look at the album's most recent focus track, "All Gays Go To Heaven". Since here is where he openly converses on the topics of equality and religion in equal measure.
"God is sitting on her throne. Welcoming the wayward home. Ones they sent to therapists. Ones who carried lisps and limp wrists. So I don't know why people say. That I'm not going there someday. When you lay me in my grave. I'll be coming home".
While not being a banner-carrying anthem. Instead, he stays within his lane of intimate style of storytelling. Navigating LGBTQ+ identities and religion. Myylo went there. His skillful songwriting. A further reminder. Of the plaintive honesty of the heartfelt ode, emphasizing the virtue of humanity.
The excellent debut album "Ahh" is out now. Wrap your ears around it – HERE
Connect with Myylo
Facebook: https://www.facebook.com/MyyloMusic/
Twitter: https://twitter.com/myylomusic
Instagram: https://www.instagram.com/myylomusic/