When at SXSW, a top priority for me, of course, is to sample some of the numerous electronic pop acts on the schedule. Facts are facts, they don't come much bigger than Chvrches who are a staple at this festival. It was great to see them again this year as they weren't on the program, but again if you were paying attention to all the parties, you would have made sure you were here!
Just LOOK at the gig poster. It's amazing, right!?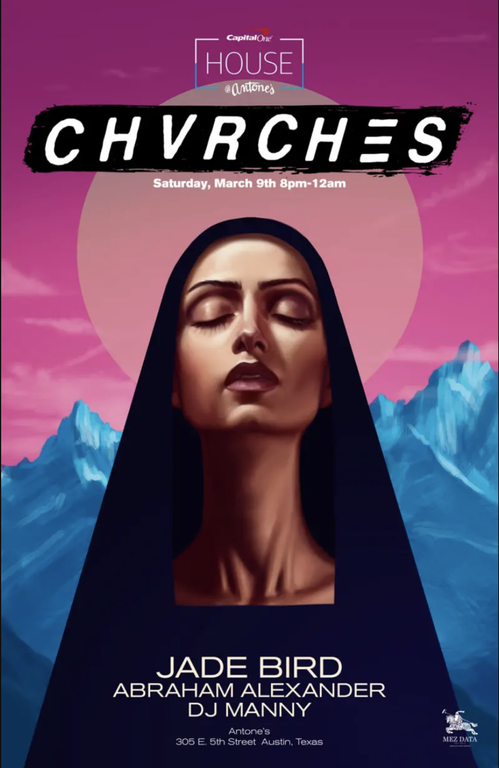 The Glaswegian trio needs little or no introduction. This is a band who now have three studio albums to their name. This also means there is quite a lot of tracks in the archive to cover, and which ones do you pick out when you are time restricted? I was thrilled, Martin, Iain and Lauren chose "Recover" and "Clearest Blue" to feature in their incredible set at Antone's for Capital One House. The band brought lots of flickering lights with them, these kinda turned the small nightclub venue of Antone's into a mini rave house for the duration of their performance. Given at times the dazzling, blinding lights. I am pleased I did manage to capture some live footage. But you know, if this was the first time you got to see them live, it really was a taster of what a full-blown Chvrches gig is like. A taster that would encourage you to sign up for tickets next time they roll into a town near to you.
It was also really cool to share this experience with Javi, he is a BIG Chvrches fan anyways. Super appreciative of his photographic skills at this show. A lovely bonus photo of Lauren and Martin below.
Connect with Chvrches
Facebook: https://www.facebook.com/CHVRCHES/
Twitter: @chvrches
Instagram: https://www.instagram.com/chvrches/