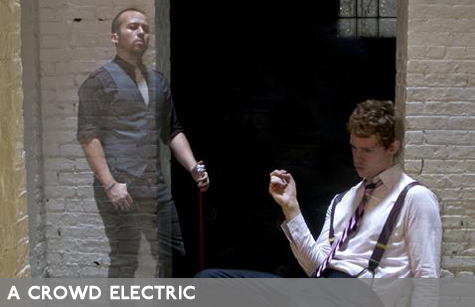 A few weeks ago,
A Crowd Electric
unveiled their stunning remix to
Madonna's "Miles Away"
on Arjan Writes and it is by far the best remixes I've heard of that song so far. The extra male vocal in the beginning of the mix just takes the song to a completely different level. Unfortunately, Warner Brothers made the band pull the song from their
MySpace
which is a total bummer.
After reading about this mini-drama, I decided to take a closer look at the band and I instantly fell in love with their songs
"The Waiter"
and
"Reckless"
(which mashes a little
Crystal Castles
into the mix) over on their
MySpace
.
David and Sparrow from the band explained the origins of these two songs to me earlier this week as I was ever oh so curious about them…
"The Waiter"
is a song we wrote based on Sparrow's short story
"Two Blue Wolves"
and is one of the tracks featured on the its upcoming soundtrack. "Two Blue Wolves" is a love story that explores themes of mortality and the preciousness of memory. Part of the proceeds are going to the Alzheimer's Association as a way to raise money and awareness for the disease, which plays a central role in the story.
"Reckless" is a bit simpler in subject matter. It's your classic volatile relationship – which is a theme that seems to crop up up in a lot of our songs. What's interesting is the mash up we did with Crystal Castles
actually helped us understand more of what we were doing with our own version of "Reckless" – which is something you'll get to hear very soon on one of our upcoming releases.
"All in all, we like to have fun with our music – and we love to dance. So even as dark as we tend to go sometimes, there's always a disco light or two flashing over the corners of the room."