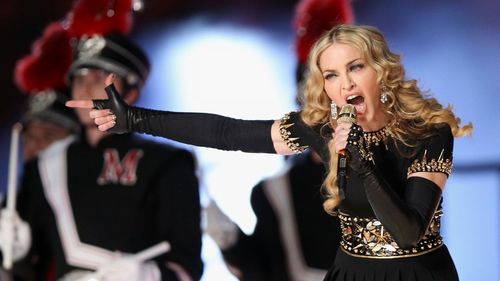 by Raj Rudolph
Note: I didn't come up with these numbers – they were just passed to me by Madonna's publicist. I think they are quite impressive, but then again, would you expect anything less from the Queen of Pop?
50 – Number 1's Pre-orders for Madonna's MDNA album on iTunes (biggest one day pre- order in ITunes (biggest one day pre-order in iTunes history) hit the top spot at iTunes store in 50 countries!
11,000,000+ – YouTube downloads of new Madonna video…and counting. The most searched subject on YouTube and Google during the Super Bowl
13 – Madonna's new single catapults to the #13 spot on Billboard's Hot 100 Chart
56 – "Give Me All Your Luvin'" marks Madonna's 56th appearance on the Hot 100 according to Billboard's Keith Caulfield
117.8 Million Peak audience viewership during Madonna's halftime performance – largest in Super Bowl history – up 4.7 million from last year – surpasses Michael Jackson's 1993 halftime performance
47.1 Million – Households saw Madonna's Super Bowl Performance
#6 – Trending at No. 6 on European Airplay Charts
#2 – Tunes Single, jumped from previous spot 11 after the Super Bowl
2500 – Spins in less than 48 hours at Top 40 radio
25 – "Give Me All Your Luvin'" single's chart debut
51 – Global Tour Dates Announced by Live Nation
1600 – Clear Channel Digital Billboards Around the Globe aired Madonna's "Give Me All Your Luvin'"
SUPER BOWL BY THE NUMBERS:
320- Hours of rehearsal prior to performance
750 – Hours to create and complete the Givenchy gold cape Madonna arrived in
4 – Special guests: Nicki Minaj, M.I.A., LMFAO and Cee Lo Green
1 – Slackliner
20 – Dancing Dolls
17 – Core Dancers
200 – Members of Gospel Choirs from Indianapolis area
150 – Gladiators carried Madonna onto the stadium with 280 feet of custom made 3 inch rope.
1200 lbs. – weight of Madonna's golden throne designed by Madonna and Jimmie Martin in London. Throne included 2 specially designed sphinx heads covered in Swarovski crystals.
100 – Members of Drumline
250 – Volunteers who assembled and took down stage during half time in 6 minutes (go Hoosiers!)
27 – Carts which carried the stage were wheeled in by the volunteers
36 – Projectors hung from ceiling of stadium to create light show
120 -Individual lashes applied to each of Madonna's eyelids per eye
18k- Rose gold ground down and added to Madonna's eye shadow and lips by makeup artist Gina Brooke
200 – Pairs of black briefs provided by Calvin Klein for the Gladiators (they got to wear them home)
MADONNA BY THE LETTERS:
MDNA – Title of Madonna's upcoming CD (scheduled for March 26th release)
W.E. – Title of just released film directed and co-written by Madonna
L.U.V. – Madonna
Y.O.U. – You Wanna?