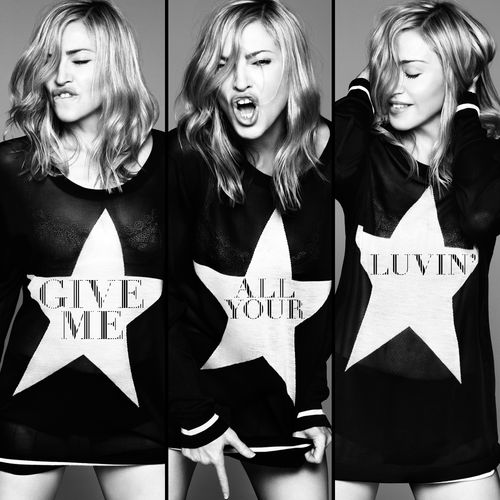 by Raj Rudolph
The press release just dropped EQs! And here it is – you don't want my commentary, you want it straight from the Queen's mouth…there's LOADS of new information here, so READ CAREFULLY!
THE MATERIAL GIRL IS BACK ON THE DANCE FLOOR
MADONNA'S FIRST SINGLE "GIVE ME ALL YOUR LUVIN'" FEATURING NICKI MINAJ & M.I.A. OUT FEB. 3rd
MDNA New Studio Album For Interscope Records To Be Released March 26th
Limited Time iTunes Pre-Order of Exclusive MDNA Deluxe Edition Begins Feb. 3rd
AMERICAN IDOL To Air Exclusive Video Preview of Single on Thursday, Feb. 2nd on FOX


For Immediate Release – (New York, NY) – January 29, 2012 - Madonna will be releasing her new single "Give Me All Your Luvin'" featuring Nicki Minaj & M.I.A. on February 3rd, three days before her highly anticipated Bridgestone Super Bowl halftime performance, it was officially confirmed by Interscope Records. "Give Me All Your Luvin'" is the first single from Madonna's upcoming album MDNA , her 12th studio album and follow up to 2008's Hard Candy which debuted at No. 1 in 37 countries. The song was written by Madonna, Martin Solveig, Nicki Minaj and M.I.A, composed by Martin Solveig and Michael Tordjman and produced by Madonna and Martin Solveig.

iTunes will offer an exclusive global pre-order of an 18 track Deluxe Edition of MDNA including one exclusive remix from Madonna's new album. The bonus remix will be available from Friday February 3rd through Monday February 6th only. During this time period the album will be available for $9.99 and fans will also receive the digital single "Give Me All Your Luvin'" immediately. This single is also exclusive to iTunes during this limited time. At launch, the offer can be found at www.iTunes.com/Madonna

The video for "Give Me All Your Luvin," directed by Megaforce, is football and cheerleader themed – inspired by her upcoming Super Bowl appearance. In an AMERICAN IDOL exclusive, Madonna will world preview the video for her new single "Give Me All Your Luvin," featuring Nicki Minaj and M.I.A., during IDOL Thursday, Feb. 2 (8:00-9:00 PM ET/PT) on FOX. The full video for "Give Me All Your Luvin'" will premiere on Madonna's YouTube channel on February 3rd at 9am EST/6am PST. www.youtube.com/Madonna

MDNA, recorded in New York and LA, reunites Madonna with former collaborator William Orbit ("Ray of Light") who co wrote and co produced several cuts on the new album. Other co producers include Martin Solveig, The Demolition Crew, Marco "Benny" Benassi and Alessandro "Alle" Benassi, Hardy "Indiigo" Muanza, Michael Malih and Madonna.

The Golden Globe Award winning song "Masterpiece" from the Madonna directed Weinstein Company film "W.E." which opens in February is also included on MDNA as well as on W.E. – Music From the Soundtrack which is scheduled to be released on January 31st at digital retailers on Interscope as well. The Compact Disc version of the soundtrack is scheduled to be released exclusively at Amazon.com on February 14th. The score was composed, orchestrated and produced by Abel Korzeniowski.


Madonna is scheduled to appear on The Tonight Show with Jay Leno on January 30th.