On Wednesday night I got to see Scissor Sisters perform their Night Work Tour at a packed O2 Arena in London and the show was nothing short of phenominal. I literally had the time of my life watching them kick ass and take names – and the crowd, ate it up! Hurts opened the show as well making this concert an unmissable event here at EQ.
The biggest reason I love going to gigs is to actually "get to know" the artists and hearing them converse in-between songs. For me, hearing the artists actually "speak" is the major highlight. Nothing irritates me more when you go to a concert and the artist just performs -that's so boring. But this was most certainly not the case with Scissor Sisters on Wednesday night. Ana Matronic was on fire with her quick quips and funny stories! In-between busting out all the classic Scissor Sisters anthems like "Tits On The Radio", "Comfortably Numb", "Kiss You Off", "Laura" and "Mary", fans were treated to hilarious dialogues which included Ana officially adopting a few choice British-isms into her vocabulary like "gurnied", "knackered", "loo" and her personal favorite – "minging". Jake Shears told us how his mother Frida was in tears the day before because she couldn't find her passport to travel to London and see them perform – rest assured Frida made it in the end and had a huge dedication to her in way of "Take Your Mama Out"!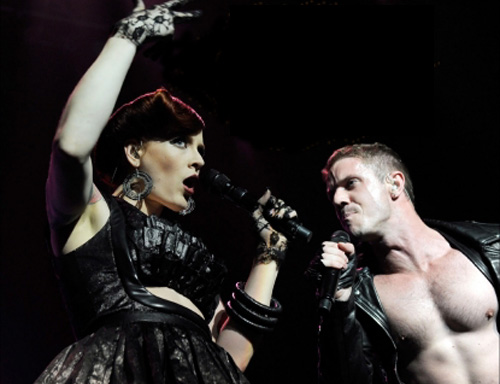 The staging for the Night Work Tour was super sexy. Robert Mapplethorpe inspired imagery adorned the stage which made the whole elaborate production feel like you were back in seedy New York City in the 70s – complete with pictures of well-endowed giant jockstraps reminding you that you aren't at some safe mainstream pop production – you were at a god-damned Scissor Sisters show – in all it's "filthy gorgeousness". The imagery alone made new songs like "Any Which Way", "Skintight", "Skin This Cat", "Something Like This" and "Harder You Get" really come to life.
The encore was spectacular and couldn't have been better executed. Closing out the show with "Fire With Fire", "I Don't Feel Like Dancin" and the exuberantly weird and wonderful "Invisible Light", fans left on a natural high whilst getting a golden shower of glittery confetti. Afterwards, I was lucky enough to go to the after-party and have a wee chat with the super-friendly Del Marquis and Jake Shears who were obviously on a high from having performed to such a great London crowd. Ke$ha was even backstage with her giant bodyguard along with the uber lovely Bright Light Bright Light and potty mouthed Alan Carr – good times!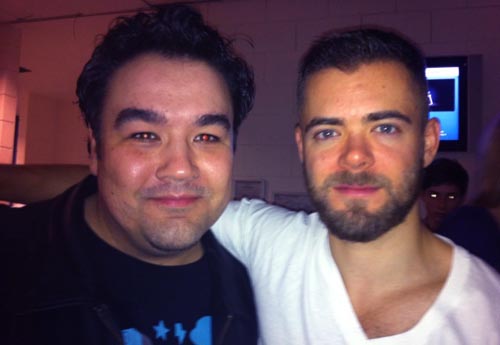 Scissor Sisters will be supporting the one-and-only Lady Gaga on her US tour in February and March. It still amazes me how the Americans still haven't picked up on how incredibly awesome Scissor Sisters are. It's almost ironic that the day after Scissor Sisters played London's O2 Arena, Lady Gaga herself headlined the same venue – proof positive that the Lady Gaga/Scissor Sisters US Tour is going to be unmissable for real pop fans in the US. I really do hope that Lady Gaga fans embrace Scissor Sisters and their amazing pop music in these coming months. For your life isn't complete unless your iPod has all three Scissor Sisters albums permanently taking up residence on it.