by Raj Rudolph
There are good gigs and then there are dream gigs.
Last night at The Roundhouse was most definitely a dream gig indeed. Scissor Sisters rocked up into Londontown last night on their Magic Hour tour for a two night sold out engagement with none other than EQ favorite Bright Light Bright Light in tow and let me tell you this, it was a pop explosion of epic proportions.
Kicking off the night at 8pm, Bright Light Bright Light took to the stage for a live PA which featured all the magnetic poignant pop hits from his debut album "Make Me Believe In Hope". This kind of exposure for Rod Thomas couldn't be more appropriate as Scissor Sisters fans packed in the house early to get a glimpse of the pop wunderkid in action and to experience what all the fuss is about in the pop blogoshere.
Not only did Rod effortlessly deliver his most notable tracks like "Love Part II", new single "Feel It" and my favorite song of last year "Disco Moment", he was later joined onstage by Del Marquis himself for the lovely track "Cry At Films" in which Scissor Sister and Bright Light came together and united on this duet which was absolute pop magic and was truly one of the best moments of last night for me.
Fresh from his appearance at the Poptronik Festival this summer, Scissor Sisters Tour DJ Sammy Jo warmed up the crowd and gave EQ readers a cheeky smile – we love Sammy Jo!

What was most fun about last night's Scissor Sisters gig was the realization that the band are quickly approaching their "greatest hits" era. Jake Shears and Ana Matronic WERKED the crowd with more choreography than ever before during "Shady Love", "Skin This Cat" and the highlight of the evening for most people – their outrageous and full-o-attitude routine for "Let's Have A Kiki". I might add this song is most definitely in the running to be EQ's best track of 2012 as every time I hear it, I become a total dancing fool nutjob as did each and every person at The Roundhouse last night.
Ana Matronic proved to be the band's new spokes-sister and kept the crowd in stitches with her witty dialogue in which she cleared up some of the international confusion surrounding the word "kiki" to the crowd. She reminded us that "kiki" does not mean "penis", "vagina" or "drug taking" but it does in fact still mean "a party for calming all your nerves". The stunner then went on to explain that what happens after the kiki is what they like to call the "comedown" (I wonder what they mean here…) in which the band whipped us up into a frenzy with their first UK smash hit "Comfortably Numb" and epic mind-fuck "Invisible Light" in which Ana breathed a whole new life into Sir Ian McKellan's memorable dark dialogue.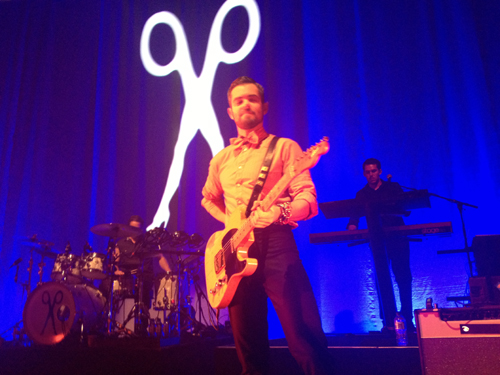 Del Marquis smiles for EQ all the while looking fly as ever.
The fun didn't stop there, with mega hot stompers like "Don't Feel Like Dancin", "Kiss You Off", "Any Which Way" and "Take Your Mama Out" peppering the setlist with glitter and gold dust, the band closed out the evening with encores of "Only The Horses" and "Filthy/Gorgeous". Truly one magical night with the Scissor Sisters on their Magic Hour tour. Whilst not their biggest production to date, the show was simple, magnificent and exactly what you expect any time you see them live – a total fucking blast.
It's so refreshing to know that Scissor Sisters have had such amazing success. They are truly one of pop's brightest. Their clever songs and ability to marry the balance of rock pop and electronic music are second-to-none and if you still have the opportunity to catch them on tour as they rock into Spain and Italy – all I can say is just go. If you're going to their second show tonight in London – well, you're in for quite the treat.