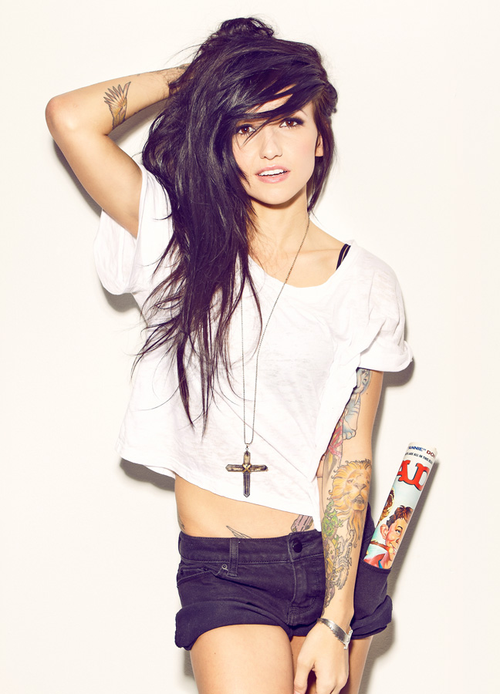 by Jordan Meehan
On Wednesday, October 19th I was fortunate enough to see Lights in New York City with a friend of mine. The venue was the appropriately sized Gramercy Theatre in, you guessed it, Gramercy. The venue seemed like a perfect fit: intimate, dimly lit and eager to be filled with heavy beats and swirling, other worldly synths. From the moment she stepped on stage and delivered a power-house performance of "Banner", a song from the new album, it was clear that Lights was here to deliver.
She moved seamlessly through her setlist, which included a lot of songs from her first album, such as "February Air", "Ice", and "Second Go" and a generous amount of songs from her new album, "Siberia", such as "Flux and Flow", "Suspension", "Siberia" and "Toes". One of the things that really stood out to me was that, unlike many electronica and pop artists, Lights did not rely solely on a play back of her music; she played her own music, along with her band, on her synths, pianos and guitars, and played it damnwell! Some of the highlights of her show were definitely "Where the Fence is Low" (probably my favorite song off the new album), her earth shattering performance of "Everybody Breaks a Glass", which made the small theatre performance feel like a huge arena show with her soaring vocals, and her intimate, acoustic performance of "And Counting".

There is something inescapably authentic and sweet about Lights that is lost on most mainstream pop acts these days that really draws me to her. During her moments of audience interaction between songs her true colors shined through and it became evident that she is more than an incredible electronica artist with an impeccable ability to "tickle a gnarly synth" (as her Twitter says), she is an incredibly sweet young woman, completely dedicated to what she does and to those who have helped her become who she is today. It takes more than hard hitting dance beats, grinding synths and good vocals to make a live show great; it takes heart, soul and true dedication, all of which Lights brings to the table in bulk.
Catch up with our exclusive interview with Lights right here.