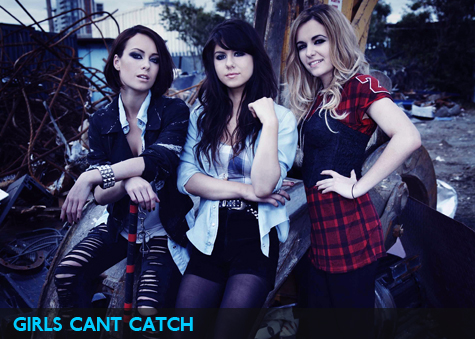 Rising girl group sensation Girls Can't Catch are making quite a splash with their hot electro-pop single "Keep Your Head Up" which is igniting the video airwaves in the UK at the moment. Coming from Fascination Records, the label that is defining girl pop at the moment, Girls Can't Catch seem poised and ready for take-off into the world of pop music.  
"Keep Your Head Up" is out on August 3rd and EQ got some time with Jess from the group to talk about filming their glamourous music video in a dump, working with hot pop video director Kinga Burza and their upcoming show at the iTunes festival.  Enjoy!
Well hello Jess how are you today?
I'm good thank you!
So I'm really curious, when management pitched the idea of doing a music video in a rubbish field, what was your initial reaction?
[Laughs] Well we were on tour at the time and we got the idea sent through to us by email.  We all sat down in the dressing room and read it together and said "Well that is a bit different!"  At first I was like "OMG – croquet in a pit!  Wow – that's REALLY different".  I expected more of a poppy feel or more something like you would see in a pop video.  But when we actually did it, and saw our first playback of it, it was just really really cool.  It definitely fits in with the look we are going for and our style. It's not what viewers would expect when they hear the track. 
What was it like to work with hot new pop music director Kinga Burza?
It was great!  She was really lovely.  The fact that we knew about her before and that she'd done such great music videos like Katy Perry's "I Kissed A Girl" really put us at ease.  We had great hope with her and that she's the sort of woman you want to have on board.  She just made the day really easy and she knew what what she wanted from us.  If we weren't sure about something or if we were doing something wrong, we would just ask her and she made us feel at ease.
The boys in the video are quite nice-looking.  Was there any chemistry on the set between any of the girls and boys?  Or was it strictly professional?  Spill the beans…
[Laughs] Was there any WHAT between us?!
Chemistry…
[Laughs] Well I thought they were all quite cute!  [Laughs]  I personally had a little favourite – the blond one was really funny actually.  They were all lovely and just as nervous as we were.  As the day went on we talked and got to muck around off-camera a lot so that we could have a connection on-camera.  They were a right laugh actually!

Now you went on tour with Girls Aloud as the support act.  Were the Girls Aloud audiences receptive to your brand of pop?  It's always hard being the new support act isn't it?
They were the best audience you could ever ask for.  Especially as this was the first thing we've did. We went straight on tour after being put together and we didn't have any idea what the audiences were gonna be like.  They were just fantastic.  Obviously when you go to a concert, you're not there to see the support act so we beared that in mind.  But for us it was the opposite – people actually made banners for us on the last night!  It was just an amazing feeling to know that as the tour went on
gradually people got to know more about us.
Which stop on the tour was the most memorable for you?
God there's loads!  There are so many nights that are memorable.  But my personal favourite was doing the O2 in London.  That was just amazing because I've been there so many times for gigs myself.  I saw Beyonce there, Justin Timberlake, Kanye West.  To stand on that stage and think "wow this is the view they got when they performed" – it's just an incredible feeling.  The O2 is just becoming bigger and bigger and I think that place has just a buzz about it.  Going there has just such a magical feeling.
What is the album going to be like?  Is "Keep Your Head Up" a representation of the album as a whole – electro-pop at it's finest or is there going to be a variation of the sound on it?
"Keep Your Head Up" is probably the poppiest if I'm perfectly honest with you.  That's why we thought it would be a good one to launch with.  When we heard it – we loved it!  But the album is offering a mix of stuff.  We've worked with different writers and producers and we got some more balladly "Umbrella" type Rihanna songs on it.  We've got R&B tracks as well.  We did one of our songs "Unconditional" on the tour and it's definitely got a more dancy feel to it.  At the end of the day, all the songs are pop but I think we are offering a variety of pop on the album…hopefully.
So you've been working with Shanzay Lewis of All Saints fame – what is it like to be working with her?
Yes!  She was lovely – she has written two of the songs on our album.  She is just really really cool.  We were all nervous beforhand because she is from such a huge girl band.  She has just got such an amazing talent.  She's had lots of tips on how to improve songs.
Is being a budding new popstar everything you thought it would be?
It's been a CRAZY CRAZY ride.  It's actually more than you expect it to be.  I had a different idea of how it would be actually.  But from the word "go" it's been crazy – tour straight away, single out soon, it's been amazing, just one thing after another…
If you could work with anyone in pop right now – who would be that pop star and why?
My idol is Kanye West – if I could work with anyone it would be him!  If I could work with anyone in pop.  I would love to do a collaboration with Girls Aloud or The Saturdays as they are on our same label…if we could collaborate that would be amazing!
You have a big show coming up soon with Sophie Ellis-Bextor and The Saturdays at the iTunes festival…are you excited about it? 
Yes!  That is the talk of this week!  If you spend any time with us this week, that's what you'll hear. We are wondering what our costumes are gonna be like, what our entrance is gonna be like when we hit the stage…We've been working with our cherographer all day yesterday and today.  There is a huge buzz around it because we have a lot of friends and family coming.
Definitely going to be a great night for lady pop isn't it!
Exactly, it's a huge night for celebrating the pop of female artists – it's gonna be really really good!
Well that's it Jess – any parting words for our EQ readers?
Well our single is out on the 3rd of August and come see us at the iTunes festival.  We are so lucky to be at this stage and just want to thank everyone for their support!
Let's take a look at that glamourous music video in a dump then shall we…
For more Girls Can't Catch – make sure to visit their official website - www.girlscantcatch.com