You know – we could probably write a whole blog just about Madonna, of course not half as good as our favourite Madonna blog, Madonnalicious, but nevertheless we could go on and on about her. Truth be told, we hardly ever write about Madonna. It's not like she needs any more publicity is it? EQ has always been a place to talk about new artists and music and nothing we could ever say about The Material Girl would really amount to anything. She's genius. We remember buying her 'Like A Virgin' cassette in sixth grade and having to hide it from our mother cuz the cover was too racy. Whenever the queen releases concert tour dates, we practically bankrupt ourselves into getting decent seats at as many multiple shows as possible.
So her new album is coming out soon…It has a candy-theme. We've heard rumblings that the album is going to be shit and we haven't been really impressed with the unfinished tracks that have leaked online and the catastrophe that was 'Hey You'. But something tells us Madonna has another ace up her sleeve. She always does. We'd be rather surprised if the album was really shit to be honest. She's Madonna after all.
Madonna recently had a listening party at Warner Bros for staff only and we're quite impressed with the decor of the room, see below. As for what the staff actually thought about the album (lucky buggers got to hear it first), you can read a little story over here, via Madonnalicious.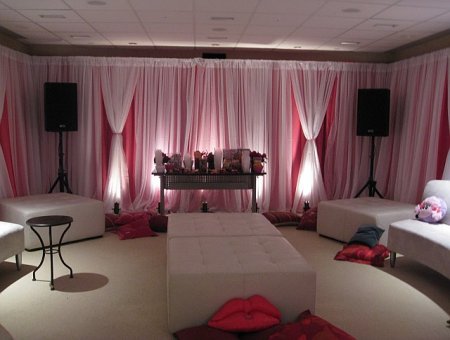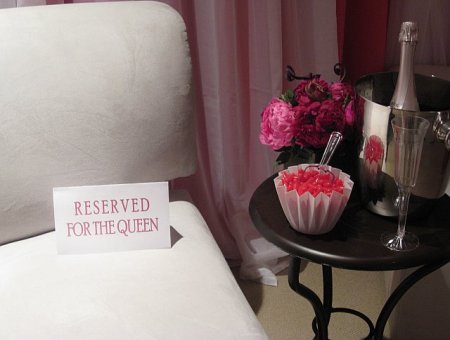 So having said all this nonsense above, we've decided to write about Madonna more on EQ. She's so EQ anyways, it's not even funny. She's an EQ legend. She's actually another reason we started EQ – she's made electronica fucking awesome again.
And…for those of you who didn't catch it, here's a snippet of Darren Hayes singing 'Dress You Up' at his New Years Party. We have to say – Darren tore this track up. It was the most fabulous part of his show…we hope it's a permanent fixture on his upcoming 'Side Two Tour'.