Well hello Rebekka – how are you doing? I know you've been traveling around a lot like a mad lady lately doing gigs and such…
Hi lovely Raj, I'm doing just fine – back home in Sweden after a lovely week in London and Denmark. I love the alternation of tour and home life.

So first question. You've got roots in Sweden and Denmark – so why is the album called "Queen of France"?
Well, it's more of an ironic hint to the decadent Marie Antoinette and other divas and queens of the same nature than a title for myself <winks>. Also of course a comment on the French electro and diva scene. Historically they really produced some great divas – Brigitte Bardotte etc, and they have that flair for style and sexyness. Also its the bonus track on the album.
So you're first UK single is "She Lion" – why is this the first single for the Brits?
"She Lion" is kind of a signet ring for me – I thought it would be a proper first hand shake
Are you a she-lion in real life? A tempting tigress or more of a soft-cuddly tiger cub.
Hmm, I think when it comes to my carrier and business I am quite the she lion, but at home I'm more of a cuddly house cat.
Where do you draw your unique sense of style from? It's very striking.
Basicly I'm a dress up kind of girl, have always been, so I find lots of inspiration in old costume chests and vintage shops, but of course I love haute couture as well, I just don't really find interest in keeping up with different designers or labels. I don't believe in trends, never did.
Did you find any good treasures at Beyond Retro on your recent trip to London?
Oh my, I was there for way too long! I started going through the Halloween boxes and actually did find some great stage accessories for the boys in my band. I kind of got hung up on finding stuff for them, so I didn't really find alot for myself. I almost bought a great wig, but the shop assistant kind of talked me out of it. I regret it now… I bought some great lashes though.
I have to admit, I didn't know much about you until Juvelen mentioned you an interview I did with him. How long have you been colloborating with Juvelen?
Well, actually the remix he did of "Soul To My Soul" was the first thing we did together – I'm obviously very grateful that he mentioned me to you!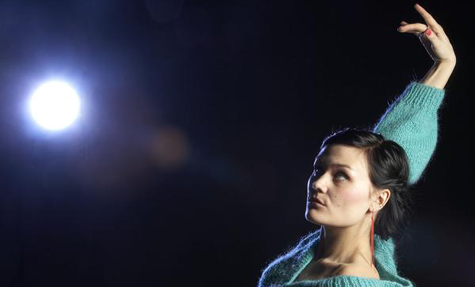 You have a thing for twins don't you. As evidenced in your song "Twin Baby". What's that song all about?
Ooh yes, twins are so damn sexy and mysterious. I think I always wanted a twin sister.
The song is about a friend of mine who had a dead twin removed from his ass…I was so disturbed by his story, that I simply had to put it in a story.
I just want to say a huge thanks for performing at Electroqueer recently. You actually created quite a stir during your performance. How was it playing your tracks to us Londoners? I heard it was your second ever London show.
I had a great time in London at at the Electroqueer party. People were really kind and supportive and I met some really nice artists backstage. I hope to come back soon – with the full show!
You actually almost didn't make it to the show – tell us the story!
The morning of my flight I got up at 4 a.m. and at 4.20 I recieved a text that Sterling (the airline company) had ceased operation and bankrupty would be filed that day. So we had to decide what to do, and I ended up going alone with really expensive new tickets. Dammit, Sterling.
Well we are glad you could come in the end! Did you like any of the other artists that performed?
I'm really bad at seeing other artists, when I have to perform myself, but I enjoyed the sounds of Antigone and Dominique Woolf and what I could see from backstage. But all in all the other artists were great – and great people too.
In "Soul To My Soul" you can really see comparisons to Bjork coming out. What do you think of being compared to Bjork? A good or a bad thing?
Really, in that song?! Well, I've been taking the Björk comparisons since I was 15 or so. For many years I felt really offended, because I never listened to her whatsoever, but now I think it's a compliment. I do think that I'm far less excentric, though. But she is a brilliant artist, no doubt.
You're about to embark on a tour now. Excited?
Really exited. Always excited to go on tour and I'm really excited to meet this new audience.
We hear you're even going to open for Alphabeat maybe?
True, we will do three gigs with them in The Netherlands. Think it's going to be a lot of fun.
Is it inspiring to see Danish band Alphabeat doing so well in the UK being that you have Danish roots as well?
Yes, its really funny and cool at the same time – and they absolutely deserve it. They wrote some really good songs.
Tell me what "Army Of Foxy" is all about. It's probably one of the biggest stompers on your album.
It's about all the bitches, all the foxy ladies and femme fatales, all the girls who try too hard, all the decadent divas and shallow fashionistas. I am the leader of the pack on stage, but still I wrote it as quite a sarcastic comment.
So who are some of your biggest influences in music and in life?
I'm a terrible musician – I rarely ever listen to music, I don't own an iPod. I'm inspired by lots of other things – art, litterature, fashion, artpeople, relationships, people in general, nature and city, going out etc. I suppose both of my grandmothers are great inspirations in life.
So when you're not out and about shocking audiences with your electronic army of foxy style and music – what's your everyday life like?
I'm a very double-sided person – I love being on tour, but I also really need the quiet times – the domestic life. Right now music is all I do, and my side job is being a desperate housewife, I guess. <smiles>.
Well that's it, Rebekka – thanks for your time. Any parting words for Electroqueer readers?
Thanks for your time – it's been a pleasure talking to you. And hopefully we'll all meet soon again. Until then – go get "She Lion" and then the "Queen of France" album!