Interview by Will-W.
I had the pleasure of chatting recently with Dan Kurtz of Dragonette and although it is long overdue, EQ is excited to give you an exclusive peak on the very latest from the glamtastic British-Canadian band.  Having met Dan personally on a couple occasions here in Toronto before, I can tell you that not only is he one of the most down-to-earth guys ever, but genuinely, he is all about the music.  Although a release date has still yet to be finalized for Dragonette's highly anticipated sophomore effort, let's see what Dan has to say shall we?
Hi Dan – Thank you so much for taking the time to chat with EQ!  We are honoured that you have listed us as one of your favourite blogs on your official website (Dragonette.com) and we have always wanted to chat with you sooner.  What can you tell us about your new album and where you are at with it?
We're sitting in a studio in Toronto mixing the seventh of ten songs right now.  We'll have finished these ten songs by next Wednesday, and then we're headed back to London to write the "B-sides" over the following couple of weeks.
Early reports are saying that you are aiming at a more acoustic/organic sound with this project.  What sparked the decision to modify the winning formula you had with Galore?
Those early reports might be a bit inaccurate.  It's true that we've added some more "organic" sounds, but I think the electro/dance elements are tougher than they were on Galore.  I can say that we haven't tried to make this new album sound either like, or unlike the songs we did for Galore.  Quite frankly, we're not professional enough songwriters to set out an agenda for a song and make it turn out just how we first envisioned it!

Have you faced any challenges in the making of this sophomore project?  Quite clearly, you raised the bar high with Galore and it is understandable if there are some hesitations.
Well, with Galore, we just started writing songs and when we hit ten good ones, we were pretty much done.  The challenge this time was only in getting started.  It felt like we were staring down a very, very long and stressful road.  Taking the first step (opening up a computer to write even a simple drum beat) felt monumental.  We started in January of 2008 and spent the better part of the year pre-occupied with each of the songs as we wrote them.  It's an all-consuming task, but although we're glad to be almost finished, I already am beginning to miss the mindset we've been in for so long.
A short video clip titled UR IN (click here) was leaked on Popjustice late 2008.  I must say for one, I found it rather racy and believe me, I'm no prude (smile).  To be honest, when I think of Dragonette, what comes to mind first and foremost is sexuality and fun.  Do you fear that your fans' shock threshold might get exceeded, Dan?
Ah yes… UR IN!  I think that one went right over most peoples' heads.  We made that video for no reason other than to take the piss out of the rash of bullshit celebrity-perfumes that have been popping up over the last years.  It started as a funny "what if" from Martina over dinner one night, and our friend Drew Lightfoot, a commercial director, and Martina's brother Nick, a film producer, thought it would be hilarious to actually make a "perfume" commercial with all the sexy and sensual trimmings, etc., of the current perfume ads.  It wasn't meant to refer back to the "raciness" of Dragonette in any way, but that's how it became to be perceived.
As for sexuality and Dragonette, we are still baffled as to how we have become known as a "crazy sex band", when our songs and videos are actually so much less overtly sexual than, say, a perfume commercial, or the Beyoncé/Shakira video that came out last year.  That, in part, was the reason to make the UR IN video.  To point out the "fuck me" nature of almost all those commercials, and how it's de rigueur for even celebrities to use their sexuality to sell almost anything.  On the other hand, when we make a spoof of a spoof of the '70s porn industry – Take It Like a Man – an homage to Boogie Nights, but with a female star), our video gets flagged as "mature content" with an 18+ viewer rating on YouTube!
Anyway, it will be interesting to see if this "reputation" sticks with us after people hear our new record, since there's next to no lyrical content about sex in any way.
We see that Galore was released just recently in the U.S. on I Surrender Records.  What can you tell us about your decision to sign with this label in particular?   Also, some fans were baffled by the late U.S. release of your debut album in contrast to other parts of the world.  Will this new album be released simultaneously in different markets or are there plans to launch it on separate dates?
We too were baffled by how long it took to get the record out in the U.S.  The specifics of why are a time-honoured story of record company politics and policy, and all I can say is that we're glad it managed to happen at all.  As for I Surrender in particular, we were so happy to be working with a label that was the opposite of what we'd experienced up until that point. I Surrender has a small office of really dedicated, invested music fans who have the autonomy and the nimbleness to do what they want, and quickly.  For our next record, it's going to be released, if not simultaneously around the world, then within a much, much smaller window of time.
Now that's a relief!  To delve a little further Dan, does it ever become challenging to separate your private time from work time with Martina, or does it just come naturally to merge the two together?
At this point, it feels natural, but we both know that being in a band together does for sure get in the way of a "normal"  married life.  We've put a studio in our (little) house too, and that has made things even more intense, since we've been basically working from morning to night in a room that is ten feet away from our bed.  Rarely do we go outside!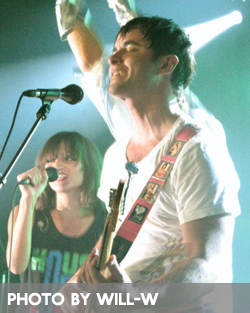 The gay community has shown so much love for Dragonette, and you have given back again and again – examples being performing at both London and Toronto Pride.  As a performer myself, I had the honour of performing at last year's Toronto Pride and must say I was torn between ditching my own rehearsal and coming out and watch your set! (smile) Although it is natural to migrate to where your support is, are there plans to continue performing at niche "gay" venues with this new album?
I'd imagine we'll keep playing wherever our fans are.  The gay community has been there since the beginning, and I hope that continues, since it's been really great so far — playing those Pride shows felt like a real honour for us.
Being a multi-talented group, we know that Dragonette's members have some interesting side projects on-the-go.  Dan, we know you've got electronica/DJing project which you're involved in.  We know also that the band has written tracks for some prolific female artists, namely Kylie Minogue and Cyndi Lauper.  Major!  Can you tell EQ readers about anything else you might be involved in right now?
Well… we didn't actually get any songs done with Kylie, although we were asked to write a couple of songs to see if she'd want them for her record (she didn't!).  The Cyndi song, on the other hand, is part of her album which is nominated for a Grammy this year.  Since then, while we were writing our record, we produced a couple of songs for Tom Jones' new record, together with Dan Grech-Marguerat, who's also the co-producer and engineer for the next Dragonette record. Dan by the way, is up for a Grammy too for his work as an engineer on the last Radiohead record.  An awesome guy!
What is Dragonette listening to right now and which current acts are helping influence your new sound?
Of the new stuff that's come out this year, we've been listening a lot to Santogold, as well as MGMT, and have discovered the greatness of Soulwax (although they haven't put out a record in a while).  We went on tour in Australia with them and a bunch of other great acts, and we were blown away by them as producers, players, and DJs).  Timeless artists that have been playing in our house a lot this year include Ricky Lee Jones, Heart, The Pretenders, and Phoebe Snow.
We eagerly await that new single, but until then, EQ thanks you for taking the time to talk to us.  All the best, Dan, Martina, Will and Joel – we're extremely proud of you!
For the latest on Dragonette, visit their Myspace page at http://www.myspace.com/dragonette