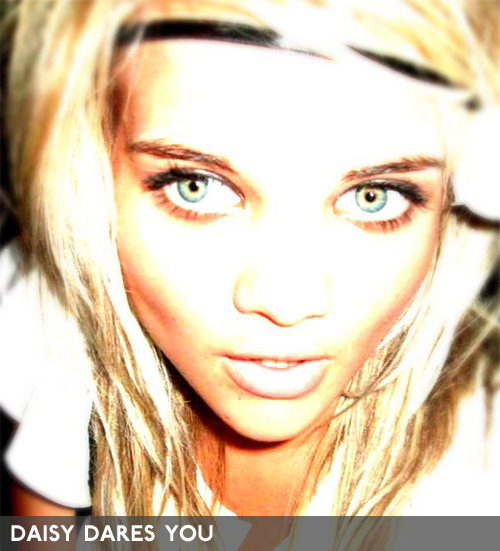 She's just a young little thing known to the music world as Daisy Dares You. Already signed to Jive/RCA and armed with a fun little video to her theme song "Daisy Dares You" igniting the music blogosphere – the future most certainly looks bright for this incredible young musician.
I got five minutes with the rising starlet to talk about her music video, the first single "Number One Enemy" and some of her biggest influences.  If you haven't heard of Daisy Dares You yet – make sure to check her out on MySpace…
EQ: Well hello Daisy, how are you today young lady?
Daisy Dares You: Very well, thank you. I've just about to head to Romania to film my new video.
 
I really love your video to "Daisy Dares You".  Tell me, what's the inspiration behind the song?
The inspiration behind the song was about the world taking me on…quite defiant really.
 
I love the set of the video too – is that your house?  Your bedroom in the video is the picture of total comfort.
Yeah, the video was at my lovely home, and you're right there – my bedroom is the definition of total comfort.  I think bedrooms and sleep should be the biggest investment of anyone's life.
Did you have a good time filming the video?  It looked like a lot of fun that day.
Yeah it was a good, but very long day.  All my friends came over though to be in the video so it was a lot of fun.
So I hear you're still in school – is it difficult managing your studies with your budding music career?
Yeah really hard, there's a lot to juggle.
 
Tell me about your song "Number One Enemy".  I love the little synths in it.
That's going to be my first single properly.  It's about my sister, we weren't getting along that week, but we're all good now.
When did you start pursuing music – was it something you stumbled upon or were you born to make music?
My family are all musicians, so I've been around music my whole life. It's easy to become a part of music or for music to become a part of you when you're around it all the time.
"Next few minutes" is gorgeous – talk me through this track…
Thank you very much. I'm glad you like it…I'm full of glee!  It's about a tricky situation with a friend of mine and this situation with a girl he was with who I thought was an idiot.
 
You have an extensive list of influences on your MySpace page.  Who really stands out to you has being the biggest influence on the music you create?
It's got to be Courtney Love.
So what's the plan Daisy, EP or album in the works?  I can see you're signed to Jive/Sony RCA – do they have big plans for you?
Yup there's going to be an album.  When I was signed, I had pretty much written the album so I've been working on that since, tightening it all up. "Number One Enemy" is going to be out in January, which is exciting and then the album in April!  Can't wait….
Neither can we Daisy – let's take a look at the "Daisy Dares You" video shall we…