What makes The Dolly Rockers so damn special?  How are they different from any other girl band out there at the moment?  Well the answer to that my dear EQs is quite simple.  They are real British girls with a real British quirk factor so infectious that you can just help but to fall absolutely in love with them. 
At first, I wasn't sold on The Dolly Rockers.  I thought they would fade into obscurity as quickly as their video to "Je Suis Une Dolly" had made the rounds on the pop blogs.  But it wasn't until I got to listen to the rest of their songs, that I quickly became a fan. "Gold Digger" is a prime example of a song that can easily change your initial perception of a group into something from pop silliness to pop brilliance in an instant.  "How Did I End Up With You" is a pop masterpiece that has everyone talking as well. 
I caught up with Sophie, Lucie and Brooke to discuss some of their songs, their background and delved into what it takes to truly be a Dolly Rocker.  Enjoy…
So how did the dolly rockers come together? I know you've been working the pop showcase circuit for a few years now…
Lucie: We met through an audition in the stage about three years ago.  The audition was originally for a different project but we left after about three months because we couldn't see it going anywhere and we wanted to do it our way.  A friend of ours gave us Ray Hedges' (a big songwriter) address and we turned up on his doorstep and begged him to work with us.  He put Bewitched together and said he would never work with another girl band after that because they're too much hard work –  but he really liked us.  We then wrote with him over a year and a half before we got our manager, Adrian, on-board.  Then we just focused on getting a record deal which we did with Parlophone in January this year!
How much fun was it filming your video to "Je Suis un dolly" on the tube?
Brooke: It was a lot of fun – we actually had a gig the night before and didn't get in till 3am.  Then the film crew turned up to start getting ready for filming at 5am!  So we he had had such little sleep and we still felt drunk – which actually helped!  People were looking at us like we were mental but that was exactly what we wanted.  Plus we were all dressed up and in character so we didn't really care about getting weird looks.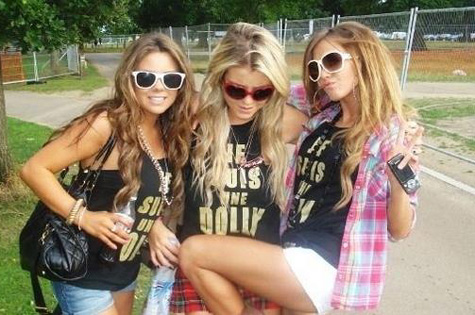 "Champagne Shirley" – a girl in real life? She sounds a bit on the deluded side…
Brooke: "Champagne Shirley" isn't really about one girl it's about a whole bunch of girls you see today, with their radioactive skin, white hair and stick-on nails.  It's about girls who have nothing to aspire to but shagging footballers or getting free drinks in tacky West End clubs.  We just wanted to make a song for younger girls to see that that's really not cool.  Fame is only a good thing when you have a career to back it up.  Not for flashing your nips outside Chinawhites while your hair extensions fall on the floor!
What's this about you gals going on with married men in "How Did I End Up With You?" Surely that's not a good example to be setting for those young girls. Bad Dolly Rockers!
Sophie: None of us have ever snogged a married man!  The song is about a horrible man or a horrible relationship.  The married men bit is just a generalization about always wanting a man you can't have, for whatever reason!
Big hair – an absolute must for a Dolly Rockers look? Is it a lot harder than it looks?
Sophie: Big hair is defiantly a must for Dolly Rockers… Big hair, small waist, big lashes!  It's a nightmare to maintain but it sets us apart from those other boring girl bands with shiny straight hair!
A lot of new girl bands have been working hard to get the major label signing like you have!  What was the secret weapon you had that helped you land the big record deal?
Brooke: We just always knew we had to do something different to set us apart from the other girl bands, something that no record label could create and that there was definitely a market for.  As much as we all love girl bands like PCD and Girls Aloud, they already existed, and to be honest, we're a lot better at being cheeky and cocky than being sexy!
Lucie: We've always kept ourselves up-to-date with what was being played on the radio and what was in fashion.  At the time we started writing, Lily Allen and Kate Nash were coming out and we really liked their sound and how they sung in accents.  We always wanted for each of us to show our personalities and we thought a really good way for that to happen would be if we sung in our accents as Brooke is from Manchester,  I'm from London and Sophie's from Leeds so that's where we kind of got our sound from. The styling took a while to develop to what it is now but we always had the idea of looking like dolls dragged through a hedge!!  We descried our style as "Alice in Wonderland" with a touch of vintage on a heavy night out!
"Golddigger" another song about a bad girl. A theme on your songs I'm picking up. Is it your mission to right all those wrong girls out there through song?
Sophie: Yeah, again it's about a "Champagne Shirley" type of girl with no brain and refurbed tits!  Because they're about the same type of thing we can't release them both as singles which is annoying because we love them both!  But people will start to think we're a bit odd and have voodoo dolls of Jordan, Danielle Lloyd and Jodie Marsh lined up in our house!
It's Sunday. A day of rest for the dollies. Where would I most likely find you in London on this lazy day off?
Brooke: Unless we're working we've probably had a heavy Saturday night so we'd probably be in Pizza Express eating hangover food and talking about the stupid things we did last night… And which Pedro's we snogged!
You're headlining our EQ club night on June 26th. Any surprises in store? What sorta crazy thing am I gonna see on your rider?
Lucie: Our rider is always the same…Rose wine and Haribo…Oh and maybe some sexy boys!  Actually we've changed now to vodka & diet coke!  We've just recorded a really good new song called "Boys" which hopefully well be performing for the first time!
Lastly, I tried your recipe for punch that you put up on YouTube and I got very very drunk.  You Dollys have a high tolerance! Is this something that is a must for a dolly rocker?
Sophie: Yes you have to be pretty hardcore to be a Dolly Rocker…No water or early nights in!  We're moving into our dolly house next week, by the time we leave it will probably have no walls or ceilings!
Thanks dollies, any parting words for our EQ readers?
All: Shalom. Blowjob.
Nice.  Don't forget Dolly Rockers are headlining the next EQ @ Underbelly club night alongside Dean Lennon, Ky Ismet, State City Disco, MaJiKer, Madison, Tenek, ElectraCute and Waterson on June 26th at Zigfrid Von Underbelly in Hoxton Square!
More Dolly Rockers on MySpace.