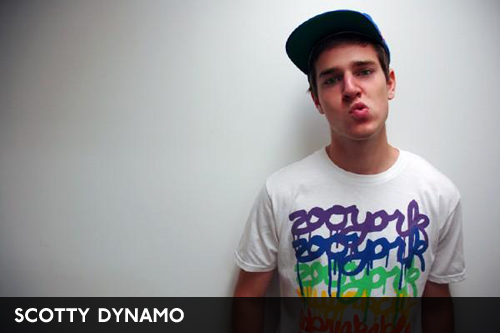 by Adam Tyler

Well, it's been a while since I wrote a guest blog for EQ!  I've spent the last couple of months working on some amazing new music, while being sick almost every other day!  Not the best way to spend the holidays, let me tell you! But I'm really excited to get some of my new music out there! I've just uploaded "Schizophrenic" to my myspace… WOO!  But psh, enough about me! Let's move onto the artist this post is dedicated to: Scotty Dynamo!
Some readers might not be much into rap/hip hop, and while Scotty does spit some mean rhymes, he does it over incredibly catchy and irresistible electro/pop tracks. Pop and electro fans can't dismiss his use of addictive beats and synths galore!  And even for non-rap fans, you've gotta admit that his lyrics are clever and full of humor! For those of you out there in need of a good melody or hook, do not fear!  Tracks like "Work It" and "Make It Right" have some killer choruses…simple and catchy!
He's even set out to please dance fans and electronic fans alike with his tune "They Wanna" which blends his own signature rhymes with a mix of Darude's "Sandstorm" and Daft Punk's "Technologic". Can you say AMAZING?!?! I can! (And I think I just did.)  Throw in his track "On A Roll" and it's clear this kid has a killer set of tracks already!  Not too bad for a 20-year-old who writes and produces all his material himself. Looking forward to what he'll be creating in the future!
http://www.myspace.com/scottydynamo

http://www.scottydynamo.com
| | |
| --- | --- |
| | EQ Guest Blogger: Adam Tyler is a rising electro-pop musician from California whose been garnering massive attention from the pop blogesphere. You can hear his new song "Friction" as well as others on his MySpace page and read about him on his official website. Search "Adam Tyler" in our search bar below to read all about him on EQ. |