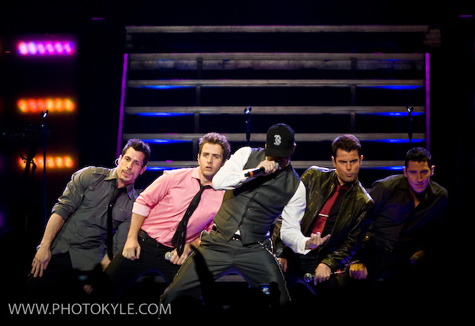 I always knew that taking my boyfriend to a New Kids On The Block concert could be a cause for potential breakup. There are 11 years between us and he thinks it all a bit silly to go crazy over white boys who can dance. Being a dancer himself, it's hard to impress him with a bit of fancy footwork. Worst of all, I took him to Boston last summer and he hated it for the most part. One day he even caught me doing "the new kids dance" in one of my finer moments playing around on YouTube. Total class – I know. So really, there is no angle to sell him on the idea of going to see Jordan, Joey, Donnie, Jon and Danny on their reunion tour at a sold out O2 Arena last Saturday night.
In getting to the O2 via the tube, we were immediately sardined into a carriage of overtly keen NKOTB fans, all my age, who were giddy with delight, sporting old worn-with-time concert T-shirts and looks on their faces like ravenous tigresses who needed a long overdue fix of boyband nostalgia. All I could do was laugh, for if I had been born female, I would have been one of them too – maybe just a little better accessorized. Instead we were two gay guys caught in a sea of estrogen and quiet giggles and stares. The two gay guys in London (or the one gay guy who dragged his boyfriend to the show) who liked New Kids On The Block were stepping out tonight.
The one thing I had going for me before this concert kiss-of-relationship-death was that we were both very hungry. A trip to the hot-dog and veggie burger stand made said boyfriend quite happy, being that he was starting to feel uncomfortable and realizing what I really had dragged him into. Key points of the conversation included…
"Damn, don't these guys have any male fans" – Nope.
"I think we are the only boys here" – Yup.
"If we were straight – this would be heaven" – Yup.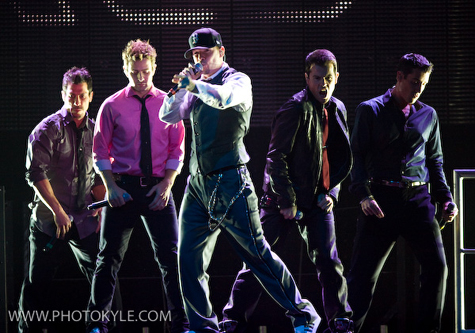 "Are you sure you're normal? I mean it feels weird that you would be into this sort of music, you generally have good taste babe" – Dies of embarrassment.
The opening act starts and that chick with the song about Jimmy Choo shoes sings her songs and says something about writing a song with Beanie Man which got a "oh no she didn't" response from me. Not a good thing to say to the two gay guys in the audience. However what was even more funny is that once the New Kids took to the stage singing "Single", all the girls sardined around us ran to the front of the stage which meant we had prime seats with a perfect view and great leg room – you couldn't ask for a better seat. This made said boyfriend quite happy.
During the show, you could tell it was put together for the fans and no one else in mind. A perfect mixture of old songs and new songs from "The Block". What I appreciated about the show was that the New Kids actually talked throughout. You don't know how much it bugs me when I go to a show and the performer doesn't actually speak outside the obligatory, "I love you London" and "thanks for coming". The boys still have personality which was loads of fun to witness. Danny even told the touching story of how his mother died of breast cancer and how they created a t-shirt for the tour to raise money for it. Joey was amazing and during his solo bits and his performance of "Twisted" I was left wondering – why didn't this guy blow up? Jordan looked as sexy and fit during "Baby I Believe In You" as he always did during the day. A musician friend of mine even wrote on Facebook after the show – "new kids, old kids, you can have my kids". Oh yes, the boys still have sex appeal.
To my surprise, my boyfriend seemed to enjoy the show. I caught him singing along to "Summertime" and "Dirty Dancing" but mostly that was because I had sneakily put a copy of "The Block" on his iTunes playlist – sneaky me. He also recognized "Step By Step" and the encore "Hangin Tough" and thought it was cool that they morphed Queen's "We Will Rock You" into it. Boyfriend was even impressed with the cheesy ballads, especially during "If You Go Away" when they showed a montage of famous musicians and icons who have passed away including Aaliyah, Lisa "Left-Eye" Lopez, Frank Sinatra and Heath Ledger. It was very touching.
Leaving the show was a bit uncomfortable with screaming ladies in your face all the way home on the train – although it was hilarious to witness the random passengers on the Victoria line at North Greenwich station when they were ascended upon by hundreds of New Kids lady fans when the doors opened. "What the fuck is this?" said one passenger. I couldn't stop laughing after that. To even the night out, boyfriend then took me to a "men only" dance club in Vauxhall as he needed some bit of testosterone to even the levels out. Even though I wanted to just go home and fawn over my tour programme over a cup of tea, I agreed to go and had quite the night – it's been awhile since I crept home at 5am. Like the good music blogger that I am, I usually make it in by 3am after gigs, but this night was special.
So that's it – I really enjoyed the New Kids On The Block show at O2 Arena. The boys were on top form and I applaud them for coming back and giving the fans a show that they really wanted. But the best part was that boyfriend has been playing New Kids On The Block on repeat ever since Saturday night. I've even got a bit sick of it! When I asked him why he likes the New Kids now, he said it gave him "an opportunity to connect with part of those 11 years in-between us" and that my dear readers, is just one of those special moments that makes relationships so special.
I still have yet to tell him the story of how I almost got beat up by a straight guy at Lilith Fair during the Sarah McLachlan set…