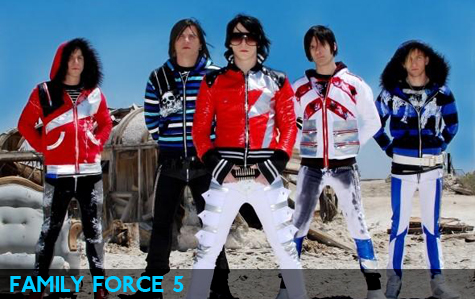 Family Force 5 are most certainly heralding the electro-pop-rock movement in epic proportions.  The five piece are currently on their way to England to give their die-hard internet fans the show they have been waiting for as the two shows sold out almost instantly.  The boys are doing it their way too proving that quality independent music can win the battle in the fickle music industry as the boys are in control of almost every aspect of their career – from the record label, merchandising and publishing rights.  Truly an independent music success story.
Their latest video for "Dance Or Die" is one of the most innovative animated ventures of today.  Futuristic by design, nu-retro by choice.  Just hit play, and you'll be mesmerized just like me, that's a promise.
Check out some of their tunes as well on MySpace – I quite particularly like "Fever" and "How In The World".