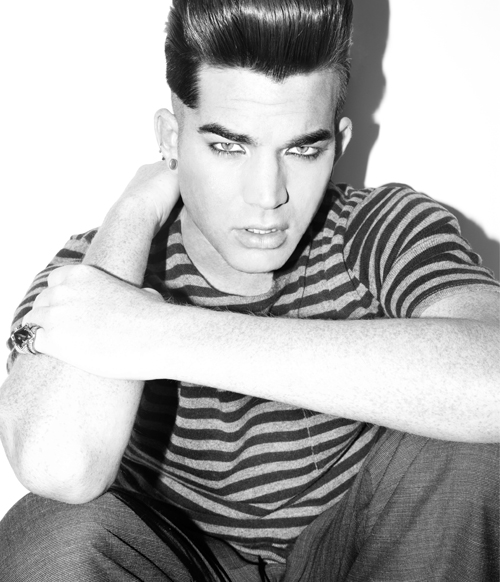 by Jordan Meehan and Raj Rudolph
Good afternoon, Adam Lambert fans! We have some extremely exciting news to share with all of you! This afternoon, we were lucky enough to get an exclusive first listen to five new tracks from Adam Lambert's upcoming album "Trespassing," which is due out in the UK on March 19th (March 20th in the US).
We've been Adam Lambert fan for years now so needless to say, we have been extremely excited about this new album since we heard about it. Normally when we hear about one of our favorite artists releasing a new album, we try to not get our hopes up too high, just in case it isn't what we want it to be. This is NOT THE CASE with Adam Lambert's new album.
If you need to break it down into 140 characters…our mini review is just this:
On "Trespassing" @adamlambert has perfected the mix of pop, rock, dubstep, dance and melody to make a cohesive and mighty piece of pop art.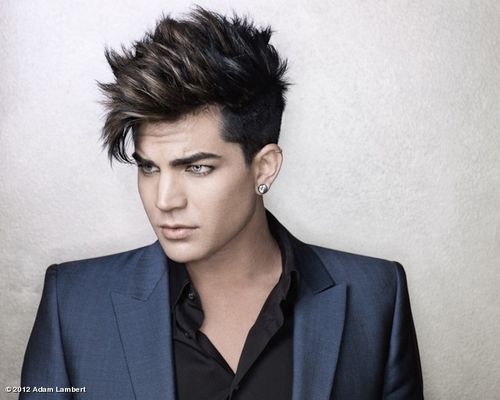 Based on the new tracks we heard today – we can tell you that "Trespassing" is going to be amazing. So – what did we think?…
"Cookoo": My goodness. It only took about 20 seconds for this song to be one of my favorite songs of 2012. "Cookoo" opens up with a hard dance beat and progresses with swirly, sweeping synths that lure you in and make you want to dance. The chorus is huge. Massive sound and the track showcases Adam's extremely powerful vocals that have repeatedly set him above all the rest. Then we get to the bridge of the song, which is pure hard electro greatness. "Cookoo" is an extremely infectious song that demands attention right from the get go and is definitely one that you will all have on repeat for days.
"Trespassing": Speaking of infectious tracks, "Trespassing" is one that really hits home for me as a Queen fan. Right from the beginning it features a bass line and beat extremely reminiscent of Queen's "Another One Bites the Dust" while maintaining a very unique sound. The chorus to this song is also very big, and very, very anthemic; one that you'll be passionately singing along with every listen. It's almost as if he gave Queen a pop kick and brought their sound into 2012.

Listen and download the new single "Better Than I Know Myself"
"Shady": This song, a collaboration with Sam Sparro and Nile Rogers, is attention grabbing from the get go. The lyrics are very suggestive and Adam's vocals are extremely seductive. His vocals on this track are also very diverse and really show off his extensive vocal range and ability. With a swelling bass and a big dance chorus, this song will make you want to dirty dance into the early hours of the morning.
"Outlaws of Love": This song absolutely broke my heart. It's a much slower tempo ballad, which shows off the darker elements of the album and features very tender, vulnerable vocals. Not only is this a very vulnerable song, it is also very emotionally revealing and authentic. Adam really lets his guard down and reveals his heart with this song and such authentic vulnerability is a rare find in pop music these days. The lyrics are rather sad, but this song will, without a doubt, hit home with the LGBT community (and everyone else, in all honesty). When you listen to it, be sure to have some tissues nearby. Seriously.
"Broken English": This is the final song we heard and it is more of a mid-tempo dance song with a very driving beat. I was initially a little skeptical about this one until I heard the chorus. The chorus to this song is huge and even infuses some dubstep into it, which proved to be very effective. And then you're blindsided by Adam's huge vocals and you instantly fall in love with this track. The breakdown in the bridge is also irresisible and features very hard electronica fused together with some dubstep.
Based on the five songs I heard today I can say without a doubt that "Trespassing"will be the album of the year. One of my problems with his first album, "For Your Entertainment", was that it tried to do too much with differnet genres and was a bit scattered. Don't get me wrong, I absolutely love the album, but there seemed to be too many different styles of music going on. "Trespassing" fuses together rock, dance-pop and a little dubstep and does it expertly.
While this album is extremely foward-thinking and sonically progressive, this isn't all that makes it great. What makes this album so wonderful is that you can really feel Adam's personality shining through in each song. Few artists have the ability to do what Adam does here: to create a piece of art that stems straight from the heart and soul while still sounding so unique, futuristic and amazing.
Get ready Glamberts, "Trespassing" by Adam Lambert is going to seriously shake up the pop music scene in 2012.