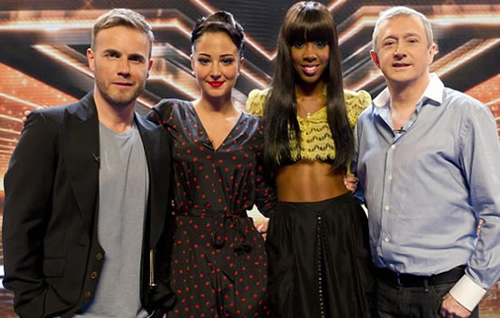 by Marc Ridley – EQ's resident X-Factor blogger
It's another double bill weekend to finish off the audition stages, and it's set to be a dramatic one; even in the opening titles Louis and Tulisa are in tears.
This week gives us our first audition visit to Wales; they even had a male-voice choir to welcome the judges with their own songs, whilst Kelly got confused with the catering: 'Whats Welsh Rarebit? I'm scared.'
And rightly so. First up: 23-year-old Natasha Paton Ali. Brilliantly Welsh, Natasha likes sexy dancing, and plans to sexy dance at Gary whether he liked it or not (we suspect not). Badly out of time and with her outfit failing to cover crucial parts of her body, the whole experience was slightly too surreal for the judges' comfort. But despite a defiant protest against their particularly bitchy put-downs, Natasha was sent packing with four resounding noes.
The stage even had space for some even more alarmingly bizzare contestants (probably Welsh nationalists), with one auditionee wailing "Wuthering Heights" in a voice that judge Gary Barlow condemned as 'not human'. We're inclined to agree.

Tulisa and Kelly seemed about to give up on Wales' chances, but then maths teacher John Adams ('a rather handsome young fellow,' according to Tulisa) sang "Cannonball" by Damien Rice. Now here's an EQ Top Tip: if you missed it, you need to hit YouTube right now. This guy was pretty brilliant. Imagine if Matt Cardle had a better voice, better looks and a personality to work with: that's pretty much this guy. In fact, we feel bad for comparing him to Matt Cardle: John Adams is way better.
With Part Two the focus was on the over-25s. It wasn't looking good: Gary was giving oldie after oldie a definite 'No', until 31-year-old yummy Irish mummy Michelle Barrett rolled up. Sugary sweet and sickeningly fond of her children, Michelle gave a heartwarming (but very average, if we're honest) performance of "All The Man I Need" by Whitney Houston. Cue tears from Tulisa: 'You remind me of my mum.' Lucky for Michelle, Tulisa's Mum also had a voice but never got the chance to use it, and so Michelle walked away with four yesses from the judges.
Duo 2 Shoes was up next, and comprised a dizzy blonde and an ever dizzier brunette. Unfortunately, the brunette (we can worry about little things like names if they make it through to the finals) had had an accident with some fake tan (should've spent a little longer in the X Factor Make-Up Room), and by the time they'd made it to the stage, I was already too annoyed to cope with their 'OMG's and bubbly 'Hello's. What would they do with the money If they won? Buy a micropig. Obviously.
Frustratingly, they were rather good, and it seems to us that they'd be pretty entertaining on the live shows. I mean, their costume budget is going to be massive. To the delight of the audience and the girls' slightly crazy mother, the judges gave them three yesses.
The gloves were off amongst the judges for the final part: Louis rubbed the panel up the wrong way by saying no to poor 16-year-old Megan, whilst Kelly Rowland refused to put through a girl group because she didn't want to settle for the mediocre (another reason why Kelly is amazing).
John Wilding had returned to the X Factor for a second attempt; last year he made it through to the judges' houses but was sent home by Dannii. This year he belted out a Jennifer Hudson number, and had all four judges giving him a staining ovation; Louis even did a fistpump. A definite negative, however: John auditioned wearing a bowler a hat. A bowler hat? Seriously? If Olly Murs has taught us anything, it's that headwear is a definite X Factor NO. Especially when John couldn't even walk down the stairs without having to hold it in place.
Tomorrow night there's more: the final auditions bring us grown men crying, more wailing and more ridiculous drama. Savour it; the auditions are almost over for another year…