A few weeks ago Pandering & The Golddiggers invited me along to their show at Shepherds Bush Empire in which they opened for Alphabeat and I have to say, it was absolutley an experience! The trio met Alphabeat on MySpace and it was very cool to witness a great new diverse pop band like Pandering & The Golddiggers take on the almighty packed house at Shepherds Bush via conversations and ideas steming from a social networking site. It goes to show you that with enough guts, determination and good material, you can get exactly where you're supposed to be – and Pandering & The Golddiggers know that.
It's still very early days for this group who are pushing boundaries and disco pop mania to whomever will listen (and you very well should – you've been told), but having said that, here are ten completley non-serious reasons why you should fall in love with Pandering & The Golddiggers – in no particular order, after the jump…
They actually love to wear gold lame.
"Disco Bloodbath" is an anthem among anthems. I can't stop listening to it.
They sampled Snap's "The Power" in their song "The Tower One" that went down a storm with the Shepherds Bush crowd.
Among their influences: Scissor Sisters, Janelle Monae, Private, Sade, Roisin Murphy and Grace Jones. You can see bits of all these famous icons in their music.
Francine of the group managed to come along to our EQ night in September to see Juvelen. And any musician who loves Juvelen – well is rather top notch in my books. I'm hoping to book them for the next EQ night, but after opening for Alphabeat, they may be too big for our show now…fingers crossed!
They make jokes about their own outrageous outfits on stage – and you should. Proof positive they don't take themsleves that seriously.
They like to wear purple as well! Purple!
"Parisian Cafe" is gorgeous. I can totally imagine the video to this little piece of musical delight. Croissants and kisses in the glittering rain anyone?
They have commanding cherography routines. I loved watching them twirl and shimmy their way through their glorious set.
And finally, they are actually named Pandering & The Golddiggers – a name that can only be defined by visting them on MySpace and falling in love with their brand of pop, electro and glam – pronto! I'll be shelling out the gold sheckles once their debut album actually drops. Guaranteed.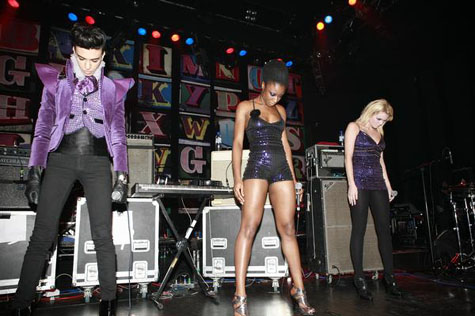 Pandering & The Golddiggers looking rather royal in purple at Shepherds Bush Empire.