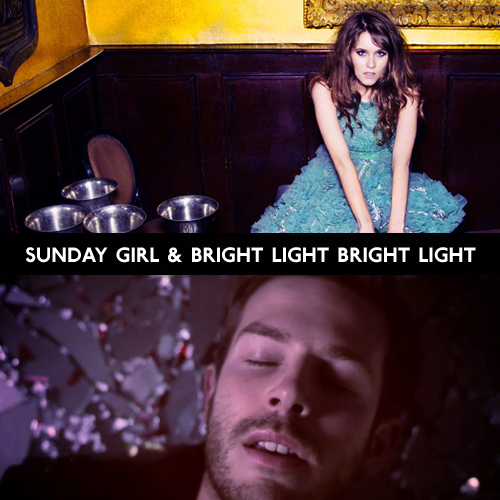 Last Friday night three credible pop stars were brought together in London and it was a total pleasure to be witness to. Ellie Goulding, Sunday Girl and Bright Light Bright Light brought their UK tour to a close in front of hundreds of eager pop fans at the HMV Apollo – and the excitement around the show was nothing short of electric.
It was obvious that Ellie Goulding fans have grew in legions since the last time I've seen her perform and it really is astounding at how she's connected with the British public through her mature, heart-felt songs and carefully selected covers. A true pop music sucess story, Ellie Goulding's new show was a marvel to watch live from the opening number of "Under The Sheets" to the encore of "Starry Eyed" and it will be interesting to see if the Americans take to her as she embarks on a USA takeover in 2011 with her EP "An Introduction to Ellie Goulding".
For me, what made this Ellie Goulding tour so delightful was the selection of the opening acts. Massive glee was induced in me when I heard that Sunday Girl and Bright Light Bright Light were chosen to support Ellie. It was like the perfect pop triage in which no way could dare dissapoint.
Having never seen Sunday Girl perform live before, it's quite easy to say I was massively impressed with what she brought to the show. "Stop Hey" was the highlight of her set and the perfect opportunity for her to showcase the new single coming out in 2011. Her version of "Self Control" sounded amazingly cool in the Apollo and when played LOUD – really made an impact with everyone singing along. Her cover of Ke$ha's "Tik Tok" brought the house down too and after seeing Sunday Girl deliver a major set to hundreds of potential new fans, it sealed the deal for me in declaring her one of 2011's hottest new talents.
You guys know I love Bright Light Bright Light – I've been rather vocal about that. It's been such a joy to witness Rod Thomas play small gigs like EQ Live to the impressive large audiences at the Apollo. His new live set is still rather simple but still very cool. Rod on keys and his mate on drums - but it just works so well and I highly suggest you see Bright Light Bright Light live if you get the chance. I had to laugh at one of Rod's tweet's before the show saying how he was "brickin it" right before playing to his biggest crowd ever – and by all means did a smashing job. Not bad for a Welsh boy making some rather sophisticated electronic pop. I'm so proud at how far he's come.
All-in-all – I had the best time ever at the Ellie Goulding/Sunday Girl/Bright Light Bright Light show. I wish more pop shows would have perfect line-ups like this and I wish I could relive it all again. What the Ellie Goulding show proved to me above all else is that pop artists are strongest when they band together and bring their respective communities together. I applaud the promoters for putting together such a wonderful show for Ellie Goulding with even greater support acts – both of which are major new talents to watch out for in 2011.