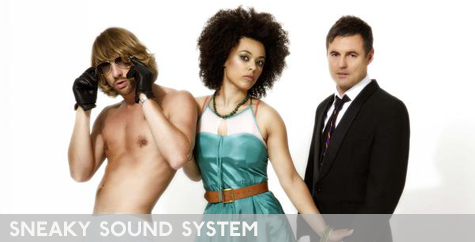 Aussie electro darlings Sneaky Sound System are planning to take the UK by storm in March with their record breaking single "I Love It" – which holds the record for the longest charting single in Australian history at 73 weeks! Can you believe it? The gorgeous threesome hope to emulate the same success in the UK and have recently made over their video for the song for the UK audience which you can view below.
I'm sure the UK video to "I Love It" violates at least half of the seven deadly sins in this sexy-hot new rendition. I am excited that Sneaky Sound System are coming to the UK and I hope to see them on their UK tour winding up at Shepherds Bush Empire in London.
"I Love It" is released in the UK on March 16th with the album following suit. More Hot Than Hot. Thanks to Adem for turning me onto this group – his blog coverage peaked my interest in them and EQ welcomes them with open arms at the UK border!