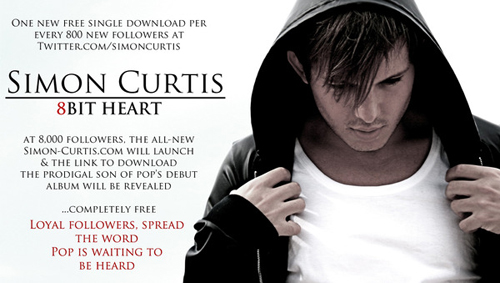 Simon Curtis has announced his plans to launch his free download album "8Bit Heart" once he reaches 8000 Twitter followers, so make sure you are following Simon on Twitter because the faster you follow, the faster we'll have this electro-pop gem in our hands!
So what's the album going to be like? Simon had this to say about the album title and forthcoming tunes…
"The album is titled "8-Bit Heart" and is built around inspiration from 80's-early nineties video games, and sci-fi/fantasy. I've been making some seriously HOT tracks using old commodore 64 8-bit music – hence the title. All really smartly themed yet totally danceable, commercial pop – which is how I like my tunes…"
Excited much? I am – Simon Curtis' music really means a lot to me. He's my third most played artist of all time (well, ever since I started a Last fm account)…just right behind Madonna and Darren Hayes and he doesn't even have a commercial release yet!