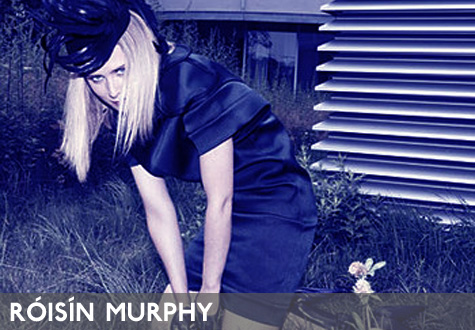 It would seem to us British (or those of us living in Britian) that Róisín Murphy has gone all quiet on us lately.  Well I can tell you for a fact that this is most certainly not the case.  Miz Murphy has been preparing the US for an electronica firestorm and has been getting tons of great US press lately – check out these great articles in Next Magazine, Out Magazine, Pop.Nography, WomensWearDaily.com and WhoWhatWear.com.  Seems she's been keeping her publicists a little busy!  Upon the recent announcement of her show in New York City, she sold over 850 tickets based on the first press release alone!  Seems the US want a taste for what "across the ponders" have grown to love about Róisín.
But don't fret – Róisín is returning to Europe for a special tour next month and EQ will be there to do one of our infamous live reviews from Brixton.  Colur me dirty.
Full set of European Tour Dates with links for tickets after the jump!
Róisín Murphy European Tour Dates
28 Oct 2008 – Teatro – Malaga, Spain
http://www.teatrocervantes.com/
30 Oct 2008 – Lisbon, PORTUGAL – Coliseum
http://www.ticketline.pt/
31 Oct 2008 – Porto, PORTUGAL – Casa da Musica
http://www.casadamusica.com/
02 Nov 2008 – Madrd, SPAIN – La Riviera
http://www.ticktackticket.com/entradas/?
05 Nov 2008 – Bucharest, ROMANIA – Sala Polivalenta
http://www.myticket.ro/
06 Nov 2008 – Sofia, BULGARIA – Universiada Hall
http://www.eventim.bg/portal/bg/
07 Nov 2008 – Thessaloniki, GREECE – Conderence Center Ethinki
http://ticketquest.gr/Default.aspx
08 Nov 2008 – Athens, GREECE – Ydrogeios Club
http://www.ticketguest.gr
12 Nov 2008 – Warsaw, POLAND – Stodola
http://www.ticketpro.pl/pl/homepage/
13 Nov 2008 – Berlin, GERMANY – Huxley's
http://www.eventim.de/cgi-bin/tickets-konzertkarten.html
14 Nov 2008 – Prague, CZECH REPUBLIC – Electronic Beats
http://www.ticketpro.cz/?@en/index
21 Nov 2008 – Amsterdam, NETHERLANDS – Heineken Music Hall
http://www.heineken-music-hall.nl/
22 Nov 2008 – Cologne, GERMANY – Live Music Hall
http://www.eventim.de/cgi-bin/tickets-konzertkarten.html
23 Nov 2008 – Forest National – Brussels, BELGIUM
http://www.livenation.be/
26 Nov 2008 – Leeds UniversityLeeds, England
http://www.ticketweb.co.uk/
27 Nov 2008 – Glasgow, SCOTLAND – ABC
http://www.gigsinscotland.com/
28 Nov 2008 – Manchester Academy, ENGLAND
http://www.seetickets.com/gat/index.asp
29 Nov 2008 – London, ENGLAND – Brixton Academy
http://www.livenation.co.uk/
01 Dec 2008 – Dublin, EIRE – Olympia
http://www.ticketmaster.ie/