POPTRONIK takes a scoot of the web introducing you to new music artists and generally bringing you the buzz on all that is creating a HOT FUSS in the music world. With a little difference maybe, but definitely cool as!
This weeks HOT FUSS FIVE:
THE READY SET: One man electro-popping thrill machine, Jordan Witzigrueter is one youngster who knows how to bash out ear pleasing pop which he has been doing for the last few years or so. Although it is over the last couple of years that his profile has risen having caught the attention of Pete Wentz from Fall Out Boy, who enamoured by the multi-talented Witzigrueter signed him up.
Being a Singer / Songwriter is talent enough for some, but Jordan stretches it to become his own band. He likes it that way, and we have to say so do we! We find the video that's just dropped on his latest release "Killer" is uncomplicated in it's brief and production yet is quite a draw to watch. If you're going to be your own band, then why not make your own video as well. We think it completely embodies what The Ready Set is all about – that being, bringing foot stomping melodies and joyus electro pop tunes to the masses, which he is currently doing on tour (catch the tour dates HERE).
From hereonin the concept of The Ready Set appears to us, to be bursting with winning potential.
WATCH: "Killer" – The Ready Set HERE
DALEY: Step up to the mic Daley! Since his move up to London Town from his roots in Manchester, man boy Daley has captured himself nothing but praise from the live clubbing crowds he has set about entertaining. Daley's polished performances and solid soulful pop sound inspired through his child-hood love of Prince and Jill Scott have made him stand out from the crowd, quickly making it to radio play and onto TV. Aside from that he has also been successful in scoring himself musician-glitterai amongst his fans! Damon Albarn had him feature alongside Gorillaz on "Doncamatic" also he's impressively shared mic time with Estelle and Wretch 32.
Not bad for a years work is it!
In the run-up to a release of his own, Daley recently put together a Mixtape containing fan favourite tracks from his live shows & some new recordings. The vibe is mostly soul, but some electro does break in there. We picked out "Smoking Gun" as being one highly notable electro edged track, that marries together superbly his god given soulful beautiful vocals against a contemporary urban pop layer. We think this is just stunning actually! And unknowingly found out that Daley is presently playing this one out all over the media - so we know this one is more HOTTER FUSS than HOT FUSS don't we!
LISTEN TO: "Smoking Gun" – By Daley HERE
LISTEN TO: "Those Who Wait" Mixtape HERE –
DOWNLOAD it through http://daley.tv

JUVENILES: There's nothing like a bite of french styled synth pop to fire us up, the latest three piece to shoot to prominence on our play list of the last month or so come out of the Kitsune Imprint.
Rennes trio, Juveniles previously having set themselves a benchmark by remixing Yelle's "Comme Un Enfant", slotted in comfortably on Kitsune's "Good Fun Issue" with their new wave modelled debut release "We Are Young". (LISTEN HERE).
With the ink now dry on their sign with Kitsune, and a tidy up of their website, Juveniles offer out FREE for sign-up "Hard Working Girl". However, unfathomably there is no option to listen to the track! Hmmmmmm…
So let us fill you in! Fans of Metronomy, Strange Talk, Wolf Gang or New Wave Indie Pop in general should especially take note on this :- By signing up you will receive, a track laden with buzzing shimmering synth's bound together with a mid-tempo beat, fierce enough to shuffle out some robot moves too.
DOWNLOAD: "Hard Working Girl" – By Juveniles HERE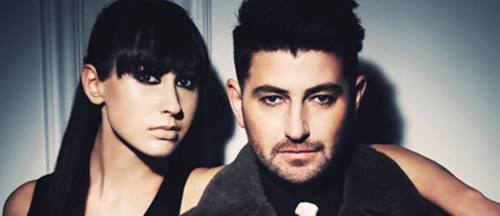 I AM A CAMERA: New out of London, Duo I Am A Camera bring to the table "Commuter Love". A track propelled with brisk baselines, top touched with twinkling synth overtones, tying up in a fluid melody cascading down from a thunder crack cloud, leaving us drenched with the definite feel of the 80's streaming down upon us. As it recounts a tale of unrequited love, lust and stalking on the Siberian Railways.
This is NOT your average love song, nor is it your average synth pop tune, its sinister elegance shades it better than that. Although, this is a taster of what I Am A Camera are all about and will be released as a FREE DOWNLOAD on December 4th – so mark your diaries or shoot off to join them on their Facebook now, for announcements on that.
Enjoy the 70's horror sci-fi inspired video on this, the duo shot it themselves on their iPhones and Ipads (swanky!)
WATCH: "Commuter Love" – By I Am A Camera HERE
CHRISTA VI: Forthcoming to the folktronica scene meet Christa VI. She came to our attention this week via a funky remix of her spring 2012 scheduled release "Your Heart". Upon hearing this one we were keen to strip off the synthy remixed layering and check out what lay at the heart of the original.
Much to our delight, we were hit with a lament of folky tranquillity backed by a simplistic use of electronic elements that quite shot the chills down the back of our neck.
Whereas Florence shines out to many as the face of female pop folktronica, our own personal taste finds her a little too whiney. Christa VI fills in this void for us. Her quite beautifully tumbling earthy vocals, presented against the slightly quirky melody line of "Your Heart" have ensured her a place in ours already.
LISTEN TO: "Your Heart" – By Christa VI HERE
POPTRONIK shouts outs to other music websites that know HOT FUSS when they hear it.
FREEBIES! – POPTRONIK recommended selection of FREE MP3's / Remixes – Delivered newly this week and available from @Poptronik Twitter Feed
SEND US YOUR TIPS!
Do you consider yourself HOT FUSS? Have you heard something NEW and AMAZING with an electro or pop buzz that you think we should know about? Get on our radar!