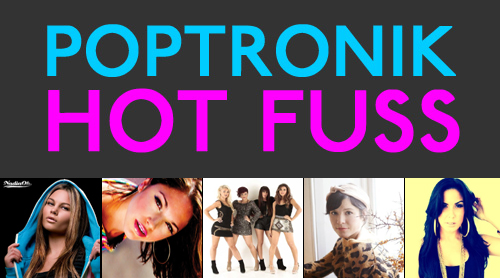 POPTRONIK takes a scoot of the web introducing you to new music artists and generally bringing you the buzz on all that is creating a HOT FUSS in the music world.  With a little difference maybe, but definitely cool as!
This weeks HOT FUSS FIVE:
NADIA OH:  As a rule we don't normally buy into the big cheesiness of the novelty market, but given an excuse and an occasion you just know the web is going to be evermore rife with artists flogging out their jangly wares. Of all the holidays you could put out a celebratory one off too, we'd rather it be the freakish one in Halloween.  Huzzah! whom did we hear banging out an above average vamp-abulously bonkers mad track? well none other than Nadia Oh!  Dance beats, general craziness and she-wolf howls! Pretty much the brew that was our cup of "All Hallows" tea as it happens, you could well say it totally made it our howl-o-ween.  Oh dear, let's stop there shall we! Do go ahead and enjoy the song.  LISTEN TO: Nadia Oh – "Vampire Night V2" HERE
JACKIE SCOTT:  "I got the chills on the back of my neck" and all the way through my body as New Yorker Jackie Scott struck up a chord! Whoa no half measures here, it's a full-on electro explosion. Jackie goes in on the hip-rap vibe be-set to a pulsating dance ready flurry of dirty electro buzz – on album pre-curser release "Train Wreck" .  As her Bio quotes she's a party fun girl with balls bigger than Justin Bieber – at a listen to this we are not left in any doubt about that! Anyway, this track holds promise of a budding electro pop vixen and we couldn't help but freakishly lush out on its sheer boldness of approach and overall hot mess.  We guess some day's you just have to unleash your electro party vamp side. Today was one of those days.  WATCH: Jackie Scott – "Train Wreck" HERE
VANQUISH: If all the talk of now is about The Saturdays and Little Mix, what does the Girl Band future hold for 2012?  One name that you might be hearing, is that of Vanquish.  This pop quartet of delicious looking lovelies, popped up on the radar about a year ago putting their own kooky fun-filled spin on the formidable B52's "Love Shack", it was an attempt of promise that exuded a great burst of energetic pop happiness which is always a good place to start from.  
From that initial joyus little pop bubble that surfaced last year, we guess the girls have spent the most part of 2011 honing their own sound and working on their own material, as we'd not heard anything more of them and wondered if they'd wandered off back into the pop dolly cupboard, the place where all failed pop girl bands go.  Thankfully the answer is no on this occasion, we got wind this week that they've recently been airing new material and word is that they'll be bringing this to the public at large in 2012. Yippee! OK this is only a fan made clip of a recent live performance showcasing a new tune "The harder You Love"  – but nonetheless you'll feel the essence of what's to come. A somewhat great, solid pop tune, that could put these girls in the market with The Saturdays, Parade, and The Ultra Girls. These girls have evolved into an exciting prospect for 2012 we feel.  Let's take a look at the video then.  WATCH:  Vanquish – "The Harder You Love" HERE 
HANNAH SCHNEIDER: The welcome return of Danish alt pop princess Hannah Schneider, proving beyond all doubt that she never put's a foot wrong!  Hannah's just dropped the first track release "In The Line Of Fire" to her home land of Denmark it comes off of her 2012 slated album release.
Further growing our admiration at her ability to craft seamlessly flawless, engaging left-of-field popular songs.  "In The Line Of Fire" holds an enchanting presence that is characteristic of Schneider, along with a shade of melodrama, totalling up to be a irresistibly sublime composition of hand claps, radiated with the gentlest trickle of twinkling synths running through it. This is, so, so, beautiful.  For now, we can only hope that it isn't too long until this has a world-wide release on it.  LISTEN TO: Hannah Schneider – "In The Line Of Fire" HERE
MADAI: You have to clock Madai onto your radar, she is working it as an aspiring pop Diva if ever we heard one.  Born from Cuban descent singer songwriter Madai has been scented out by Pitbull and assigned to his Mr 305 label.  Her first offering through the label "Mayday" works her latin heritage into a big dance club sound that we feel is not going to find itself any trouble in working itself into many DJ's sets.
We don't see Madai as another pop puppet, but with potential as big as her lungs to succeed up through the clubs and onto the charts. With Pitbull as a mentor and the production teams of Britney, Beyonce and Christina behind her debut album, all looks set to beckon Madai into pop divadom.
You need proof?,  look no further than landing yourself at her Facebook page and score yourself a listen together with a FREE DOWNLOAD of a huge club banger of a gift called "You Didn't Understand"  and watch out her NBC interview and performance of upcoming single "Mayday"  WATCH: Madai – "Mayday" HERE
POPTRONIK shouts outs to other music websites that know HOT FUSS when they hear it.
FREEBIES! –  POPTRONIK recommended  selection of FREE MP3's / Remixes – Delivered newly this week and available from @Poptronik Twitter Feed
SEND US YOUR TIPS!
Do you consider yourself HOT FUSS?  Have you heard something NEW and AMAZING with an electro pop buzz about it that you think we should know about?   Get on our radar by following us on Twitter.