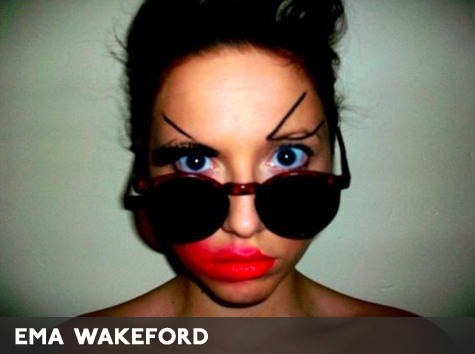 She may not be able to apply her lipstick, but she knows how to make some cracking tunes.
Her name is Ema Wakeford and I was beyond thrilled to cruise onto her MySpace profile last night.  She's quite the discovery.  Think of Sia in her glorious Zero 7 days mixed in with a little, dare I say it – Amy Winehouse with the freshness of The Good Natured.  Upfront track "Smile Back At Me" is hard-hitting – a stellar example of exquisite vocals laid out over a bed of rich atmospheric electronica that pulses and ebbs over a wonderful four minutes.  "Black You Like" is a chirpy mix of synthesizer bassy beats wrapped in a perfect pop package.  Ladyhawke might have some serious competition here. 
We all know how easy I fall to the charms of a quirky electronica lady and Ema Wakeford certainly fills those "little boots".  Her music makes me wanna get a box of crayons out and draw yellow happy suns and blue clouds on my minimalistic white walls.