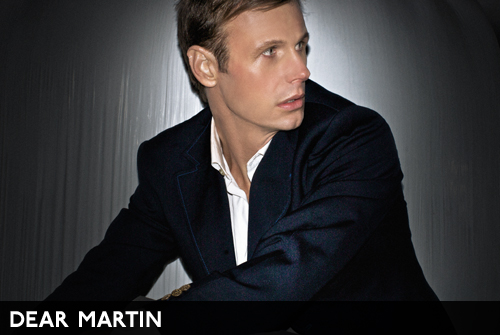 From Sweden with love.
Say hello to Dear Martin – he's got the voice of Mika (without the childlike antics) and he's got the electronic pop sensibility of Jimmy Somerville in his hayday, with striking good-looks.
Dear Martin's new single "American In Me" is from his forthcoming album "The Dearest" which is out now and he describes the track as "a homage to those who dare".  Having received critical acclaim already in his Sweden, Dear Martin (aka Björn Martin Edvardsson) is poised and ready to bring his music to the world – and you can hear what he's got on offer by checking out all of his tracks on his MySpace page.
I've spent all morning on it and I am feeling a little obsession bubbling.  But then again, when haven't I been attracted to brilliant electro-pop coming out of a good-looking Swede?  Don't answer that…just go discover Dear Martin and his "beautiful pop songs that transcends all genres" for yourself.