As "Love etc." is igniting all over the interweb, I thought it would be a fun exercise for EQ to go back in time and pick out my top ten PSB moments in life. PSB are truly legends in my book and I always find it more than difficult to write about my musical legends like Madonna, Depeche Mode and PSB on EQ. But as another year of obsession begins to cultivate with PSB for me now with "Love etc." being so damn good, I'm beginning to remember all the reasons why I'm a "pethead" and hopefully this post will allow me to get over my legends writers block and pay homage to the one group in existence that told me through electronica that…
"Hey it's ok to be gay in this fucked-up and complicated world. We've been there."

Domino Dancing
– It tops the list of being my favourite PSB song of all time. The synths on this track are mind-blowing. The horns, the drum patterns, Neil's vocal perfection. When I was a teenager living in a small town in Oregon, I thought this song was what running away from home would be like. Trading small town life for an exotic locale, falling in love with a beautiful stranger and feeling tings of jealousy when that person cheated.
"Domino Dancing"
is full of intrigue and mystery and offered the first glimpse of what the rest of the world would be like for me when I left. I would actually never see the music video until years later when I left home (we didn't have YouTube back then and I can't ever recall this ever being played on American MTV) nor even a decent record shop within 500 miles of where I lived, but I was pleased to find out that the video was just like I imagined it would be, complete with hot Latin boys. A mini-piece of cinematic pleasure which assured me that PSB not only pandered to my ear for electronica, but they also seemed to understand that a sense of a
esthetics
was equally important for the type of music genre that I would sacrifice myself for.

West End Girls
– This song and video was definitive of the MTV generation and quite frankly was what made me insanely curious about life in London. Living in a small Oregon town we didn't have people who dressed funky with streets of busy people doing important and serious things as it would seem. Every time I saw the movie poster of
"Desperately Seeking Susan"
in the background of the music video, I thought, wow – now that is my sort of place.
"West End Girls"
also started my obsession with Smash Hits magazine. For some strange and bizarre reason, my local Safeway carried exactly three issues of Smash Hits on a regular basis – surely that was some bizarre purchasing fluke. No one in my town listened to pop music. One time on the way home from a family grocery store trip, my mother asked me why I liked that magazine so much and I read her an interview with
Thompson Twins
which contained the key phrase "wham bam, thank you man" and my mother looked at me in horror as it would have seemed – I honestly didn't know the definition of that key phrase back in the 80's….One week I went to Safeway for the latest issue of Smash Hits and they didn't have it – I could have cried. What would I do without my pin-ups of popstars with the song lyrics for that week. I wrote Smash Hits in the UK and sent them 5 US dollars and asked if they could send me the missing issue and they never did. Gutted.
Losing My Mind
(PSB version, not the Liza version) – Fast forward, I left Oregon and went to the one place for University that was farthest away from home – Providence, Rhode Island. 3000 miles from home sounded exactly like where I wanted to be. There were no gay people in my hometown. I thought I was the only one. So Providence seemed like a good idea. When I got to Providence, I quickly found all the other gays in school an immersed myself in gay culture – fuck I was even vice-president of the LGBT and lived in the same house as the President and Secretary. I thought that by surrounding myself with these people would define my life, but it only became stranger. They weren't the sort of gay people I could identify with and I felt ostricized from them when I actually lived with them, despite our early friendship and mutual passion for promoting gay tolerance on campus. I moved out after six months from the gay house and started hanging out with more awkward coffee-house gays like myself who weren't obsessed with shagging, gossiping and being drama queens. I found solace with a lesbian girl named Kate who helped me discover my inner-lesbian (along with
Bjork
and
Sarah McLachlan
) and she gave me a friendship card one time which had the lyrics to
"Losing My Mind"
imprinted on the cover. I thought wow – this girl really gets me.
"Nightlife" – EQ's fave PSB album of all time.
In The Night
– At University I quickly became the dancefloor staple on Saturday nights at a little gay club called Generation X in Providence which was convienently located close to campus. I used to play "In The Night" a lot when spending hours getting ready to go out to GenX.
"In The Night"
made me feel like a badass nightcrawler who fed on all things cool, alternative and edgy which I thought I was when I got over the fact that I didn't fit the bill of being a preppy college jock. I never really took the time to analyze the lyrics of
"In The Night"
to be honest, but the sound really defines an era of nightlife for me when I think about those college years.


Absolutley Fabulous
– Lights, models, guestlist! This song was played every Saturday night at Generation X. I almost freaked out when I found an import copy of the single on a road trip to Boston one time. This song then prompted my obsession with the TV show of the same name. One-hundred bucks to buy the complete DVD set, not a problem! What was eating worth when you could spend the night in front of the DVD player with Edina and Patsy. And by the way, I was always Edina, never a Patsy.

You Only Tell Me You Love Me When You're Drunk
– Well college went by fast. The one great thing about college was that I got to study abroad in Amsterdam, Paris and London with my friends Kate, Holly and John. We got to live together in London for me, it was a dream come true. I now knew that if ever I got the chance to live in London where I could buy cds of
PSB, Kylie
and
Robbie Williams
with ease that I would do whatever I could to get myself there. I moved to Boston after college graduation and PSB's
"Nightlife"
came out. One of my favouite albums of all time. I used to hang out with friends Louis all the time and quickly met the first love of my life – an awkward boy and movie geek named Brian. None of my friends understood what I loved about Brian, but that didn't matter – he "did it" for me. We were inseperable for awhile, we even worked at the same movie theatre and internet company together. Brian very clearly understood my feelings for him, but it was never reciprocated unless he became absolutley hammered. And when this happened, it was usually at a place called Club Cafe in Boston. We'd make out passionately all night. It was a dream come true for me. But the next morning when the alcohol and X slowly wore off and we had to wash our ciggy-smelling drenched French Connection clothes, it was back to "just friends". Frustrating. I honestly thought we were destined to be together back then.

Being Boring
– This song was always one of my favourite PSB songs – it's the definition of fabulousness. But it wasn't until I took a road trip to New York City with my friends Irene and Louis to see PSB live for the first time at Hammerstein Ballroom that I really began to identify with it. PSB's version of
"Being Boring Live"
during the Nightlife Tour defined "re-invention" for me. Sorry
Madonna
. I kinda of silently orgasm when the song switches tempo at 3:07. It's the sort of feeling that I got when I took my first tablet of X and it kicked in after an hour of complaining "when is this stuff gonna work". Sigh – those were the days…

Don't Know What You Want But I Can't Give It Anymore
– Another ode to Brian. For the PSB song with the longest song title ever clearly defined how I was feeling about him. Every Saturday night you were sure to see me dancing on the podiums at Boston hot spot "Buzz" to the Peter Rauhofer mix of IDKWYWBICGIA and the common phrase that was uttered under the lighting effects and sweat drenched shirtless men was
"Hey Raj, are you rolling?"
During this fast-moving era of my life, I got assigned to my first work post in London with the internet company I worked for and it was my last night in Boston with my best mates Louis, Sadiero, Rodrigo and of course Brian. I kinda gave up on the idea of being with Brian – it just wasn't gonna happen. After all, I was leaving for London in the next day! We were all crashed at my pad in the North End of Boston and Brian never left me that night – we slept together. And that sent me into a confusing state of "whatever" for many years. Brian, I know you read this blog, so forgive me for sharing this with the world – I know you understand.
I Want A Dog
– Don't quote me on this, but I'm sure this song is about yearning for a gay partner. The lyrics are so clever. When I moved to London, it was party, party party for the first 4 years, a continuation of my life in Boston. However, I was getting to the age where a nice, normal and stable boyfriend seemed liked a REALLY good idea. I searched high and low for one – never happened. I spent two years with an Iraqi asylum seeker which I harbored no judgements about until he put me in the hospital over a disagreement about a
Darren Hayes
concert ticket. I dated a lot during this period, but never found that person for whom which lyrically I wanted so bad. "
When I get back to my small flat, I want to hear somebody bark."
Yes, a cat's no help with that…
One of EQs most prized possessions, a signed copy of "Discography" that he waited in a queue for two hours for at Tower Records in Picadilly Circus.
Indefinite Leave To Remain
– This term seems so valid in my life. As a US citizen, I had to consistently work in the same industry for four years before I got my "indefinite leave to remain in the UK" stamp in my passport. After just a few years, I came to love being a Londoner and I didn't want to go back to America – at least not while
George Bush
was still in control. On my third year in London I got the dreaded call to return back to HQ in Boston and I was so desperate to stay in London that I even worked up this plan to marry my lesbian friend Melissa so that I could stay in the UK. At the zero hour, when my boxes were packed up and ready to be shipped back to Boston, another company sponsored my work visa. Thank fuck for that because Melissa turned out to be a total evil bitch. On the day I got my "Indefinite Leave To Remain" approval from the Home Office – I cried. A new chapter in my life opened up.
Wow – that was
thereaputic
. I'm not even done yet. Le sigh. I didn't realize how many PSB songs defined small portions of my life over the years. Sorry if this blog post isn't really your cup of tea – it was a bit of a self indulgent waffle-on I know. But for those of you who are interested, I will continue this post another day, another time as
"Love, etc."
kinda defines where I am at currently with my life.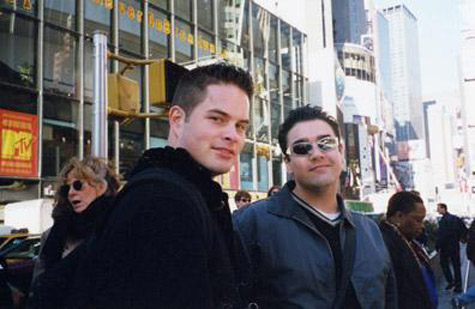 Vintage Louis and Raj in New York City before seeing Pet Shop Boys in concert on the "Nightlife" tour…