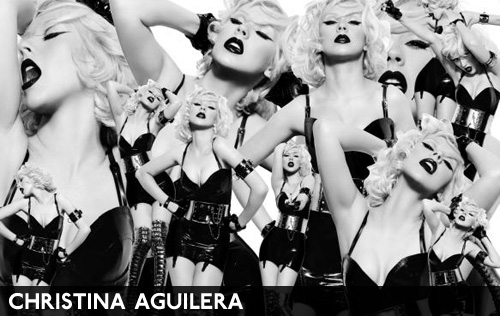 You know there doesn't seem to be a lot of love for Christina Aguilera lately, but despite all the negative criticism I've read about her new single "Not Myself Tonight", I still quite like the track and think it's a solid piece of work. Like most other pop loving fans, I'm excited to give her new album "Bionic" a whirl when it lands on my desk.
With "Not Myself Tonight" obviously paying homage to Madonna, I found this bit of commentary that Christina sent us really interesting as it explains exactly why her music video is a real and true tribute to the queen of pop herself…
"One of my favourite videos ever is "Express Yourself" by Madonna which came across as really strong and empowering – which I always try to incorporate through my expression of sexuality. I love the direct reference I made to Madonna with the eye glass moment and the smoke and stairs. I was paying tribute to a very strong woman who has paved the way for female performers like us before."
Interesting – let's watch the video again shall we. And keep in mind that the new album "Bionic" is out on June 7th.