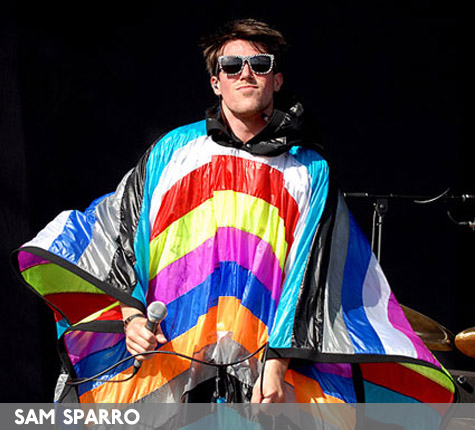 Sam Sparro and his amazing technicolour poncho
Sam Sparro's afterthoughts on the Grammys:
"No Grammy for me last night – but it's certainly an honour to loose to DAFT PUNK – I've been huge fans of theres for about a decade and God knows they've made a lasting mark on dance music and pop culture forever! It was great to see
ADELE
take home a couple and see
Katy Perry
descend on a huge banana (which my boyfriend saw being hauled downtown on the back of a truck a few days prior!) and a few other exciting moments – but overall it was very long and not very relevant – nowhere near the cutting edge of pop culture."
Congratulations to
Darren Hayes
who currently has the number 3 chart music DVD in the UK right now with
"This Delicate Film We've Made"
. It's so nice to see Darren's work in the charts at the moment and knowing how much work went into this DVD only makes it that much more special for all those involved in putting out one of the most innovative music films ever created.
Pet Shop Boys
mania is once again sweeping the world. I myself have been engrossed in making new PSB playlists for my listening pleasure and Kevin over at
Party Favorz
(my favourite DJ mix website) has put together two PSB Megamixes for you download and enjoy.
Definitely one of my favourite bands of the moment –
Milke
did an excellent set opening for
Tommy Sparks
at London's KOKO the other day. Check out their live performance of stomping track "Love Get Out Of My Way" below. Expect more coverage of
Milke
in the coming months – these boys are on the hot tip!
For all you EQ Facebookers out there – Mandy is running a competition for a CD giveaway for dance act – Kandystand. Their new dance single "Love Invasion" is out now and is totally infectious. Make sure to check out their MySpace for a sneak peak and check the Facebook group now for deats on how to win some free CDs from them!
Coming soon…our latest interview with September! You know you can't get over her…