Geri and I had our first SNOG this weekend in Soho.  It was dee-vine.  I highly recommend it to anyone visiting London.  SNOGS are great.
Chartrigger
has a great little write up of
Lady Gaga's
Fame Ball – lucky bugger got to see her show in LA and I'm tre jealous.  Gaga, bring your show to London luv.  We all know this is where you're supposed to be disco sticking it.
Holy internet leakage this weekend:
Depeche Mode's
single package for
"Wrong"
 and
Alcazar's "Disco Defenders"
landed in my download queue quicker than a red-hot promo could find it's way to my mail box.  Like the heavenly boy that I am, I will be buying both these in physical format as they are both must-haves!  
Alcazar's
album gets an extra "fabulous" point as well for their cover of
"Funkytown"
…DM's
"Caspa"
remix of
"Wrong"
is just sick.
Is it just me or is new Jazz diva
Melody Gardot
just everywhere at the moment?  Someone has a big marketing budget… 
What I've been listening to this week: Aside from being addicted to
Patrick Wolf's
new album, I've been listening to androgynous boy
Naommon's
new album
"Love Is Struggling"
which is sort of a combo of his best tracks from his previous
"Allnighter"
album like
"Love Is Struggling"
,
"You Go To My Head"
and
"This Quirk Is Love"
– mixed in with some excellent new tracks like
"Sexuality"
,
"Romance Knack", "Shake To The Earthquake"
and
"You Should Totally Trust In Me (By Now)"
. I've always have a soft spot for Naommon (and not in that sexual way). His songs are quirky, melodramatic and highly cool. I can listen to the anthem
"Allnighter"
over and over because it is THAT good. That song never gets old in my opinion. The new album has an avant-garde electro disco feel to it that brings out the inner-diva inside everyone. Highly recommended.
Just confirmed –
TEMPOSHARK
 to play at the next
EQ @ Underbelly show on May 29th
.  They "knock me out"!  Oh dear, what a bad pun.  
Nelson Clemente
and his new US management company have been toying with the idea of doing the EQ show as well and quite frankly, I wouldn't be able to contain myself if this were to happen – fingers crossed.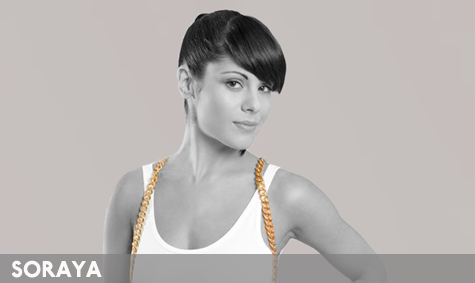 And finally, I've just realised how brilliant
Soraya
 (aka
Emma Beard
) is.  She is more than just a pretty
Paris Hilton
wannabee best friend now isn't she.  When she said she was a singer on the ITV show, I was like
"yeah aren't we all love"
, but I've just been sent her electro-pop stomper
"Come Kitty (Cat Scratch)"
for review and it's beyond dee-vine.  Plink!  That's the sound of my ear's perking up.
And finally – a note to PRs…I love you, but please don't send us unsolicited vinyl.  We sold our decks quite awhile ago and vinyl submissions will never ever get listened to unless I go over to my DJ friends house and force her to listen to it – but if I actually did that, I'd probably want to have a cup of tea with her instead of forcing her to listen to my promos…