Parralox continue to wow their international fan-base by putting up a new song called "Isn't It Strange" on their MySpace player.  The electro-pop duo did not take a break after their well-received praise of the "Electricity" album and headed straight back into the studio to record their highly-anticipated sophomore album "State Of Decay".  Let's just hope we can lure the band back to the UK for some more dates this year.  And by that, I mean I will probably send the band a desperate email – begging them to come back…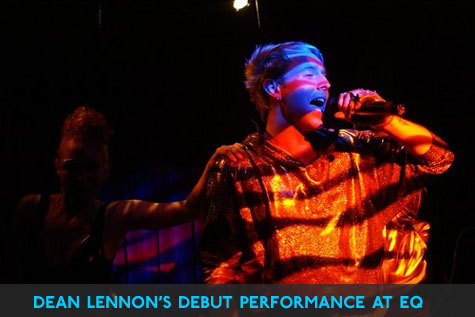 Dean Lennon also has put up a new track called "Hey You" on his MySpace player that is rather ace.  Dean performed this track at both the EQ club night and his live showcase last week and it went down really well with the respective crowds.  His management are touting dean to be the new male version of Lady Gaga, but if you ask me, he's more like the mature younger brother of Sam Sparro – with a penchant for sporting gold lame and eye makeup…
The Dolly Rockers continue their raggedy doll domination of the UK after their performance at EQ as well.  The potty-mouthed trio took to the London Pride stage on Saturday to their biggest crowd yet in promotion of their cheeky new single "Gold Digger".  Bring on the video girls – Thanks to EQ reader Cadge for capturing the magic moment below.
Have you heard Mutya's new song?  She's teamed up with Ultra for an August stomper called "Fallin" which will no doubt be all over the radio in a month or so.  You can hear the track over on Ultra's MySpace. It's not my usual cup of tea, as it's a little garage number but Mutya's distinctive vocals really shine on it.  Let's hope they make a hot radio remix to the track…fingers crossed.
And finally – take a look at Ky Ismet's performance of "Love's Electricity" at the last EQ club night.  The vid is a bit lo-fi, but can I tell you, I really enjoyed his performance – you can check out the other tracks "Morning Never Comes" and my personal fave "Punisher" over on Vimeo as well.