So the lovely Alexandra Burke won the X-Factor. She deserved it I think. I'm sure JLS will be propelled into super-stardom too here in the UK – they aren't that bad at all. If they come up with an original sound and not go down the road of harmony boyband bland nothingness, then I could see them getting quite big. I just hope Louie Walsh doesn't end up managing them – that could kill their career before it even starts me thinks. Alexandra's duet with Beyonce was totally fierce. Somehow bringing in Boyzone and Westlife to duet for the other two acts seemed well, not exciting enough in comparison. But bless Alexandra Burke and JLS – they are good cookies in my trolley. If that Irish boy would have won, I would have threw a shoe at my telly. Did anyone notice how "Leona Lewis"-upped Alexandra got for the finale? I couldn't help but notice…
Has anyone noticed the new mix of
"Pocket (Redux)"
that
Sam Sparro
has put up on his
MySpace
? It's kinda cool, but took me a few listens to get used to it.
"Pocket"
IS my favourite song of the Sam that is Sparro so I hope that the
"Pocket"
gets a MEGA single release. I want kickin remixes, extraordinary b-sides and cool artwork. Give it it me. Yes please Sam. I've been told that
Sam Sparro
is quite huge in Italy now. Apparently he's everywhere there – is that true my Italian EQs?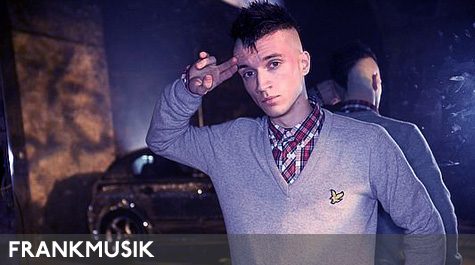 And speaking of new stuff on
MySpace
–
Frankmusik
also put up some new songs on his that are dee-vine. Check out
"Better Off As 2"
,
"Questionable Times"
and
"Gotta Boyfriend"
. I shall say it now.
Frankmusik's
new 2009 album is THE album I am looking forward too – more than anyone elses…sigh.
So
Private
have totally
redesigned their website too
…it's tre cool. Looks like the website has totally undergone a style makeover and is now presented blog style – complete with the band's pick of cool architectural design, quality music picks and little bits from the band. I do have to say it's an interesting angle in which to present their
official website
in – but
Private
haven't been too conventional have they? I still hope they are planning on finishing the video clip to
"Killer On The Dancefloor"
that they promised us awhile back…that would be way exciting. We'll just have to wait I guess.
I am ever so ever excited about
Patrick Wolf's
new album too. I've known about it for awhile as he is now working with some of the same PR peeps as
Antigone, Darren Hayes
and
Róisín Murphy
. So, needless to say, I absolutely cannot wait to hear some of the tracks that get released in the coming months. It took me awhile to become a fan of Patrick's actually – it wasn't instant for me. But after seeing him perform on a few UK TV shows in promo for his last album
"The Magic Position"
, I was hooked. Expect lots of EQ coverage surrounding Patrick's new double-album release as he has not received enough love from le EQ in the past.
Friend to all the music bloggers, Canadian songster
Will-W
has a very
cool interivew on GayWired
that you should check out. I love that the interviewer says Will's career hopes is to "be more
Darren Hayes
and less
Clay Aiken
". OMG now their is a compare and contrast for you! It's a great interview though – very in-depth story on our Will…
I am actually seeing
Lady Gaga's
video to
"Just Dance"
on all major video stations here in London on heavy rotation. Every time I see it on the HD I literally just stop in my tracks and magnetically pulled to the TV screen! There is a huge difference in being able to see a video on TV versus YouTube. I am actually considering buying tickets to
The Pussycat Dolls
just to be able to see her in concert again…oh dear – don't hate me.
And what do we have here? It's the Kid Cudi video to "Day 'N' Night" in HQ! This song is pretty good…it's got that Fedde La Grande vibe to it which is cool. I love how the female cop just comes into the store and starts stripping off. You don't know how many times I've seen this happen in Soho. I'm not kidding either.