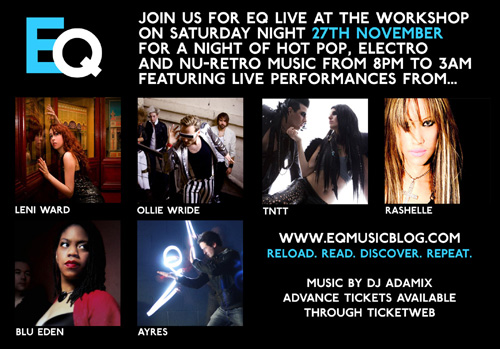 Don't forget next Saturday night November 27th as it's our our last EQ Live of the year!
If you haven't made it to EQ Live this year, it's your last chance to catch our holiday show where we'll be celebrating some of the hottest NEW pop talent on the scene. Live performances on the evening include Leni Ward, TNTT, Ollie Wride, Rashelle, BluEden and Ayres!
Expect a fun night out featuring the latest and greatest pop and electronic tunes as featured here on EQ as well as the mega hot nu-retro meltdown from the legendary DJ Adamix until 3am!
To let us know you're coming, leave a comment on the Facebook page which has all the information about the event! Tickets are available now on Ticketweb too for this show – don't miss it!
EQ Live @ The Workshop
243 Old Street
London, EC1V 9EY
www.theworkshophoxton.com