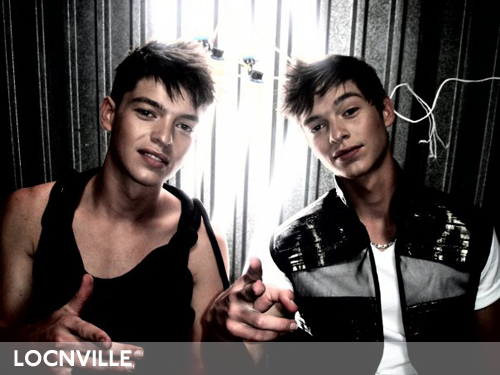 EQs – twin brothers Andrew and Brian Chaplin aka Locnville are seriously blowing up in South Africa.  Already they've had two number one singles there with "6 Second Poison" and "Sun In My Pocket" and they just went to number one on the South African album charts – knocking Cheryl Cole off the top spot!  South African journalists are branding them "the cool Jonas Brothers" with their unique blend of hip-hop and electronica – and quite frankly, they live up to that description.  Andrew and Brian are now being courted by the music industry to take their music outside South African borders and something tells me they probably will start to blow up all over Europe…
I too have most certainly caught the Locnville fever here at EQ and I had the guys tell me a little bit about their two videos for "6 Second Poison" (which we've previously featured here) and "Sun In My Pocket" so you guys can get to know them better as well. 
Locnville on "Sun In My Pocket… 
"The concept for "Sun In My Pocket" is a metaphorical interpretation of how we see the world. In other words, we're saying that by having the sun in your pocket and the moon in your hands, you ultimately control your life and how it unfolds. Everything we say in our songs is quite fantastical, as we like to use metaphor for everything so that everybody can interpret them in their own way. The concept for the "Sun In My Pocket" music video was done by the director, Kyle Lewis. When it comes to making videos and such, we like to leave it up to the directors interpretation of the music."
Locnville on "6 Second Poison"…
"The second single, "6 Second Poison", is a much more upbeat track with a slightly more fun yet darker aspect to it.  The music video for "6 Second Poison" was also done by director, Kyle Lewis, and once again he came up with the concept, he wanted to style the video a lot more and do something slightly more edgy. We also had a great CMS woman on the shoot who hand made all of the dresses that the girls wear in the video which was great as Kyle wanted to go with very white dresses so that the black paint really stood out in the video. The whole team really collaborated in the making of the music videos."