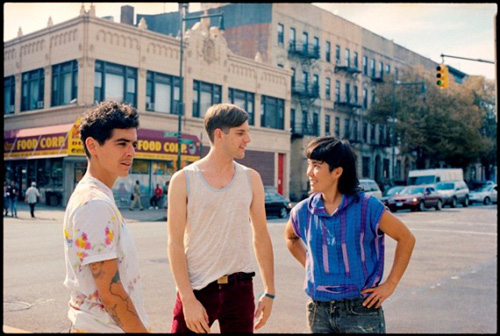 So last night I went to see MEN perform a live secret show at Madame Jojo's in London's Soho to an enthusiastic crowd of hipsters, decadent party children and all-round new music lovers and I sure it's going to sound biased when I say this – but the show was outstanding. I took my partner along with me whose taste in music is rather "mainstream" to say the least and I was a little worried about what his reaction may be in the end – but the verdict was an astounding "Wow – I really like them!"…and this comes from a guy who worships U2 and Coldplay.
The fact that a band like MEN can even exist just astounds me. Their show is incredibly simple, yet it's packed with strong messages of social consciousness and LGBT equality alonside paying homage to the arts as well as celebrating the art of creation – in all senses of the word. What I love about MEN is that as an indie band, they just don't come out on stage with their cool haircuts, serious tudes and loads of pretensciousness playing alongside boring rock beats, but rather they simply exist to raise awareness of the injustices that are happening in the world right now and why it's important to not let them push you down. It's radical queer politics set against a rather danceable beat and there hasn't been a band since Pet Shop Boys who have been able to mesh these sorts of messages together as well as MEN do.
Having performed their staple tunes like "Credit Card Babie$", the moving and gorgeous "Simultaneously" and hot new single "Off Our Backs" the short but sweet 45 minute set was enjoyed by everyone in the audience it seemed. It was a much quieter affair than their last London show at Hoxton Bar & Grill which was a MEGA affair, but you could tell that every true MEN fan was in attendance. I was equally impressed to see music legend Mark Moore of S'Express standing next to me enjoying the show amongst the crowd.

Photo courtesy of Michael Turnbull – follow him on Twitter !
If you have the the opportunity to make it to a MEN show I highly suggest you do. It's unlike any live show you may see these days and you'll leave asking yourself – why aren't they HUGE yet? It's a question I ask every time I listen to their music. MEN should be opening for Scissor Sisters if you ask me. They are what Semi Precious Weapons are to Lady Gaga – deserved of global exposure and mass appreciation. And if you don't believe me, then take it from Sia – "Seeing MEN live is like a religious experience".
If you haven't seen the video to "Off Our Backs" yet, check it out on YouTube and the single is now available to download from iTunes. MEN's debut album "Talk About Body" is set for a release on Jaunuary 31st, 2011.