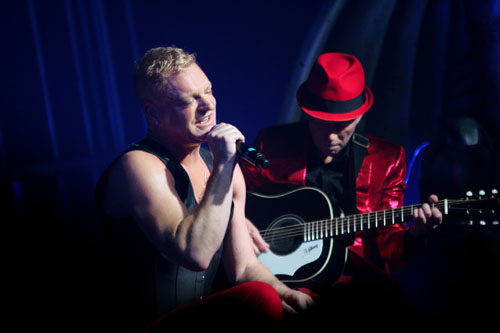 Last night the legendary electronic pop pioneers Erasure took over the stage at the unique Camden Town venue The Roundhouse for a night of pure nostalgia and a set-list of amazing hits which couldn't have been any more perfectly compiled. Performing mostly songs from their back catalog like "Always", "Love To Hate You", "Chains Of Love", "Chorus", "Ship Of Fools" and "Blue Savannah", Andy Bell and Vince Clark delivered in a way that connected and resonated with each and every one of the music lovers that sold out and rammed one of the most anticipated London concerts of this year.
It was very hard to keep myself from smiling ear-to-ear during this impressive set. I kept saying to myself that I needed a night out like this as the two hour show amazingly documented for me many of my formative years. With songs like "Stop", "Drama" and the roaringly anthematic deliverance of "A Little Respect", I kept getting flashbacks from my teenage and young adult years all through the night with this perfect pop soundtrack. I don't think I was the only boy in the audience going through a bit of time warp last night, there were many folk like me at the show last night which gave the gig a true sense of pride and community.
I've met Andy Bell a few times and he just radiates a joyous aura that is very rare in performers of his time and of today. He's almost a shrinking violet in person, a bit shy and withdrawn, but man – put him on a stage with Vince Clark at the helm of the mean gargoyle synth and Bell's inner Mick Jagger comes flying out, albeit with a somewhat gay camp confidence that is just adorable to witness.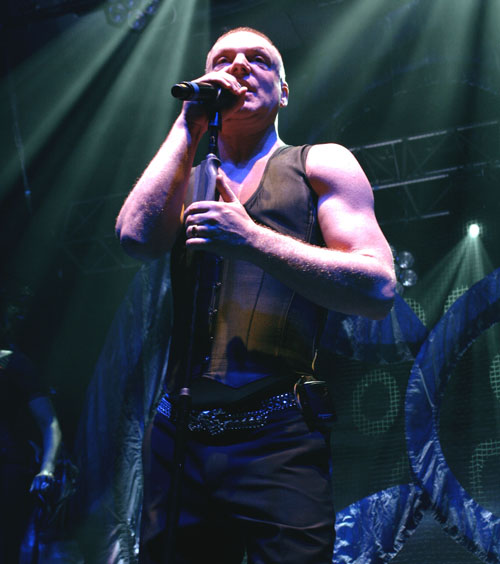 Only someone like Andy Bell could get away with not knowing the words to new single "Be With You" which he is supposedly performing on television today. He's so honest as a performer that you can almost forgive him for a music crime like arming himself with a note card of the lyrics for this one song. Ahh Bless.
Opening the show was the pop maestro Frankmusik who couldn't have been any more perfect as a support act. Performing tracks from his new album "Do It In The AM" last night, it was made abundantly clear that night why Erasure clamoured onto the electronic genius to produce their new album "Tomorrow's World" as it brings a new sound for Erasure into today's modern pop palate. What was uber fun about Frankmusik's set was the mash-up of recognizable tunes he brilliantly blended together in broken jukebox style – which is starting to become his own personal musical trademark.
Frankmusik also tweeted earlier in the day that The Roundhouse show may be his last show in awhile, perhaps due to his recent drop from Island Records. I think I can speak for most UK fans in the fact that we won't be having none of that – the world still has "a little respect" for Vincent Frank and despite the politics that go into being signed on a major label, something tells me this boy will have quite a long flourishing career as long as music lovers still embrace electronic pop, a genre that I hope never goes out of style.
The only FAIL of the night as noted by my gig mate Barnaby…some guy behind us who looked like he was having the time of his life kept screaming "GO ON NEIL!" Oi vey…
"Tomorrow's World" by Erasure and produced by Frankmusik is available on iTunes.