Recent days have seen much talk about it. Last night pop's brightest star Rina Sawayama launched her new era with "This Hell." The first taster of her upcoming second album, "Hold The Girl" (releasing 2nd September via Dirty Hit). Debut album "Sawayama" saw much critical acclaim. A pivotal release, not least because of the diversity of music styles covered. Rina was initially denied eligibility for The Brits and The Mercury Prize because she is not a British citizen but has lived in the U.K. since she was a child. With the success of the album these rules changed.
Rina just literally wrapped up the stateside leg of "The Dynasty Tour" in New York. The next hot minute, the follow-up era begins.
"I'm so excited to finally share the first song of the new era, I wrote and produced this last year with Paul Epworth, Lauren Aquilina, Clarence Clarity and Vic Jamieson in a converted church. I wanted to write a western pop song that celebrated COMMUNITY and LOVE in a time when the world seemed hellish. "This Hell" is better with you." Rina said over Instagram.
I love Rina's pop chameleon ways and that we never quite know what comes next with her or the music. Although, rest assured the stylizing will be immaculate. True to form, "This Hell" when premiered last night as Hottest Record In The World on Radio One with Clara Amfo. Is another masterclass in hybrid pop, Sawayama does so expertly well.
Sawayama soaks up musical influences like a sponge. Nowhere is this more abundantly transparent than in the song "This Hell". The outer shell of the track looks to Shania Twain, country pop and Lady Gaga for inspiration. On which Rina further adds her own power-pop twist and unshakable hook. Her pop-culture referencing in the lyrics is strong.
"Flame red carpet moment. Posing for the paparazzi. Fuck what they did to Britney To Lady Di and Whitney." She sings.
Despite their attempts to shield her from success, they soon turned about when realising, that Rina is incredibly worthy and shaking up pop like no one else. Coming out the gate fast with "This Hell", is Rina reissuing a statement of intent. Rina Sawayama is game on!
The album "Hold the Girl" comes out via Dirty Hit on September 2nd – Pre-order HERE
Also revealed is a brand new UK and Ireland tour, for this October and including a show at London's O2 Academy Brixton.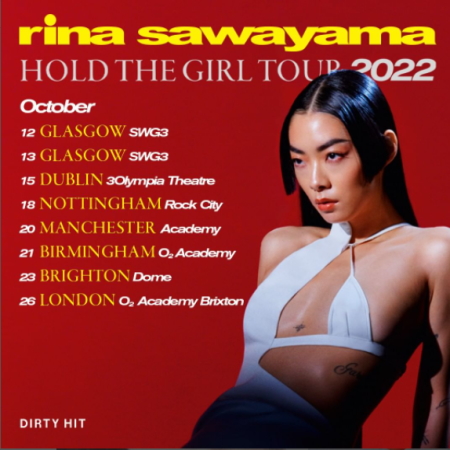 Exclusive first ticket access starts Wednesday 25th May – 10 am details HERE
General sale starts Friday 27th May – 10 am details HERE
Connect with Rina Sawayama
Facebook: https://www.facebook.com/rinasawayama
Twitter: https://twitter.com/rinasawayama
Instagram: https://www.instagram.com/rinasonline/