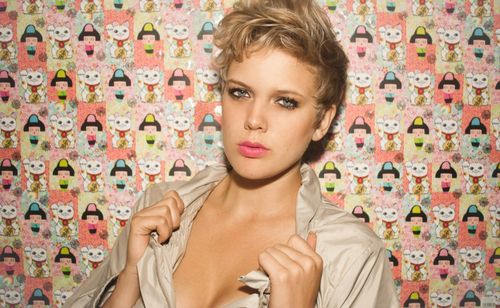 By Mandy Rogers / Photo: Lauren Desberg
Betty Who sure has more than a touch of the Pink looking
sparkle on her side doesn't she?
Betty Who ? you may well ask! This particular Betty Who is
kinda, a must indie pop listen to be perfectly frank (whoever Frank may be
also!).
O.K. maybe we should just sweep those puns aside and get
back on track to Betty Who.
The divine loveliness of the indie pop nature originally
hails from Sydney and is currently located in Boston, and she's on a mission to
make tunes that are going to make the peoples dance.
By way of introduction Betty Who sets the wheels in motion
to gander up some promotion with a sprightly and punchy pop ditty "Fire With
Fire".
A fizzing and propelling pop song, "Fire With Fire" gives a
high kicking entrance into the bulging pop arena for Betty Who, whose
colourfully confident and vivacious vocals gleam with towering pop power
amongst a shimmering backdrop of electro dance metal.
Surely, with an opener as gutsy and pop ready as "Fire With
Fire" we shouldn't be muttering Betty Who? for much longer…….. but, excitedly Betty WHO!
instead, whilst spreading the news to our friends, and picking up the FREE
download of this wonder of pop from the Soundcloud below.