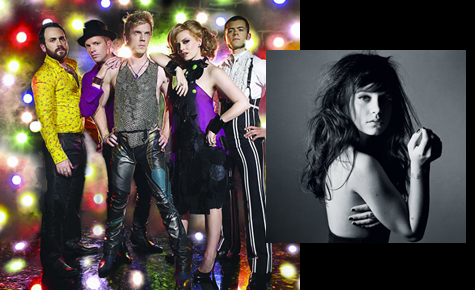 A very special promo came out today for War Child's charity "Heroes" album which is dedicated to protecting street children, child soldiers and child prisoners in war zones. The concept of the album is quite moving as it involves some of today's biggest recording artists all banding together to do some innovative cover versions for this worthwhile cause – a Band Aid for 2009 if you will.
Lending their efforts to the cause include
Beck, Hot Chip, Estelle, Peaches, Rufus Wainwright
and
Franz Ferdinand
to name a few.
The legendary
Scissor Sisters
have contributed their cover of Roxy Music's
"Do The Strand"
which takes you back to the sound of their electronica disco debut with
Ana Matronic
doing her best
Grace Jones
intro in the mix. It's enough to get any hardcore
Scissor Sisters
fan very excitable and worked up into a tizzy – including myself!
"Do The Strand"
is the perfect pre-cursor to a long overdue new studio album from the band. We know finding a new drummer is hard work, but let's get going sistas! The sisterhood beckons…
Lily Allen
also hooks up with
Mick Jones
for a dreamy bells and chimes version of
The
Clash's "Straight To Hell"
– which is done in the softer, melodic pop sound that she is unleashing in the way
"It's Not Me, It's You"
. I've never been a huge fan of
Lily Allen
, but her new sound is really shaping up and you should make sure to look for this tune when it hits iTunes.
I think it's quite interesting that
Scissor Sisters
and
Lily Allen
have ended up on the same compilation album too. To quote
Ana Matronic
a few years ago when a young, inexperienced Lily opened for them at Wembley Arena, -
"That Lily Allen, she's going places."
War Child "Heroes"
is released on February 16th on Parlophone and I highly recommend it.