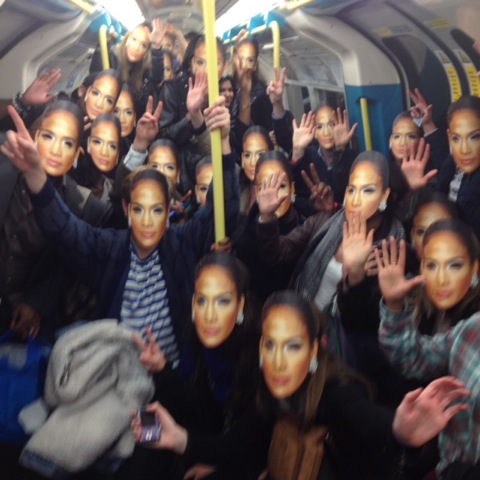 Well EQs, it appears as if J-Lo took over the Jubilee Line yesterday in London for an inexplicable reason!
While we're not entirely sure what this means or why it happened, we feel as if an explanation is coming soon, so you might want to stay tuned, because when this many J-Los get together and invade the London Underground on a Monday morning, they probably want to do more than just dance (and dance!) and love (and love!) again.
For the answer to why JLo invaded London, check the jump…
#JLoOnTheTube
Global superstar Jennifer Lopez, who has continually captivated fans for over a decade, today confirms her first ever UK arena live show at London's The O2 on October 22nd as part of her 'Dance Again' world tour. Tickets go on sale 9am Friday 25th May at www.aeglive.co.uk.
Actress, singer, producer and entrepreneur Jennifer Lopez continues to influence a generation of pop music fans, most recently with global No.1 'On The Floor', and will be performing hits from across her expansive career, which includes seven studio albums and 18 UK Top 20 singles.
Lopez has sold over 55 million records worldwide since her debut in 1999 and starred in multiple box office No.1s, including "Monster-In-Law" and "The Wedding Planner." In 2001, "The Wedding Planner" was the nation's top-grossing film, while her album, "J.Lo," was No. 1 on the Billboard Top 200 Chart. The two simultaneous No. 1 honours made Lopez the first woman to have a No. 1 movie and album in the same week.
The superstar kicks off the 'Dance Again' world tour in Panama City on June 14th and will play a further seven dates in South America and 19 dates across North America.
Lopez recently announced that she will virtually invite fans backstage during the upcoming tour via her recently-launched interactive website. Fans will have the opportunity to access special concert ticket giveaways, interviews, messages and photos from behind the scenes.
Tickets go on general sale at 9am on Friday 25th at www.aeglive.co.uk