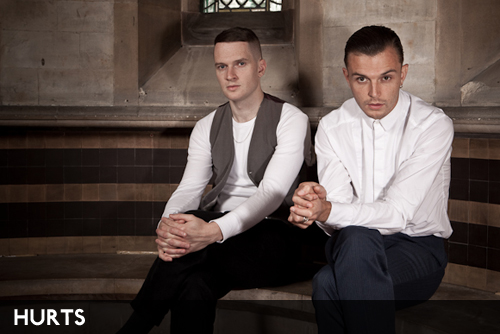 Well, I've given you EQ's annual Top 200 Singles, our Top 20 Albums and even our 30 Reasons Why 2010 Won't Suck posts, but it seems that I forgot to talk about my annual Top Ten Moments of 2010.
It always feels a bit self-indulgent for me to list these "moments". But really, I'm just hoping to create a little time capsule for myself so I can remember how much fun 2010 was in the world of electronic pop blogging. I don't work in the music industry – I'm just a music blogger and part time live promoter who has to fit in my passion for music around a 50 hour per week regular job of being a video production manager. Being able to get out there and really get closer to the music is the biggest paycheck of all to me and it drives me so much. I'm not sure I would ever want to actually work in the music industry now, but being able to talk about it and create a community around what I believe deserves attention is something that is closest to a dream job for me.
Blogging for EQ has changed my life and when I started this blog in 2004, I never would have thought it would have led to so much fun. Of course none of this means anything at all if it weren't for you devoted readers of EQ. So being able to share my experiences with you on a daily basis really is the best experience overall. Thank you for staying with me and believing in what I do.
Here are just a few of my personal EQ Music Blog highlights of 2010.
1. Meeting Hurts in a chapel in Soho - Yes, I was invited on into Soho to have Hurts themselves play me a few tracks from "Happiness" before the album release and it was absolutely amazing. One of the tracks they played for me was "Stay" and I'll never forget how spine-tingling it was to hear that track for the first time in such an amazing, emotional environment. Theo and Adam are lovely too – never out of character. It was so amazing to see them go from pre-album buzz to opening for Scissor Sisters this year at London's O2 arena. The little photo above is from that magical day!
2. Getting a direct message from Ricky Martin - When Ricky Martin came out this year, there was a HUGE backlash from the gay community and the general message that was coming across was "Fuck you Ricky Martin". I totally thought that was wrong. In my opinion, anyone who comes out deserves our support – no matter who they are – even Ricky Martin. I took it upon myself to challenge some of the negative opinions that were spewed all over my Facebook and Twitter and the next morning I woke up to find that Ricky Martin himself sent me a direct message of thanks for supporting him. That feeling was amazing – mostly because I stood up for my beliefs and that it was appreciated by someone who needed the support.
3. SCISSOR SISTERS – This year, working on the "Night Work" campaign on EQ was such a joy. I got to interview Ana Matronic, Babydaddy and Del Marquis. Sadly, I couldn't secure any time with Jake Shears this year, but it was nice to meet him backstage at The O2 a few weeks ago. Getting to work on promo for Scissor Sisters is just a joy – the band has worked mega hard and are always appreciative of your work. Special thanks to Del Marquis too who went out of his way this year to make me feel welcome at the band's last show at the O2.
4. Interviewing Sia – By FAR, the most fun I've ever had in an interview. Sia is so warm and delightful and most of all personable which for me, makes for really good interviews. A lot of the time you go into interviews and the artists are just so tired of talking and for the most part, hate promo. But going into this interview, Sia really made me feel like she was interested in talking and we joked, she started interviewing me and it was just pure fun. I remember being on such a high after I left that chat. I'll never forget how great it was to chat to Sia.
5. Finally some ALONE time with Robyn – Working on the "Body Talk" campaign was totally fun as well. The best moment with Robyn was seeing her perform a small and intimate set at Rough Trade Records this year and then a few months later being able to have quality time with her to discuss all things Robyn in our EQ Robyn takeover week. She's so lovely and so giving in her interviews. I've interviewed her a few times before, but this last face-to-face time I got with her didn't feel rushed or unimportant and I got to ask her everything I ever wanted to. It was such a cool interview and I really enjoyed promoting "Body Talk" this year.
6. Interviewing Adam Lambert – For those of you who know me – getting to interview Adam Lambert was my top goal this year. He's SO famous and so talented and really, in my eyes a great role model. We were scheduled to meet each other in London but because of the volcano ash that shut down international flights for the good part of two weeks – Adam was stuck in LA and I was stuck in New York. But we still made the interview happen by phone and it was one of the best interviews I've ever done – he really opened up about the whole "gay responsibility thing" and a lot of fans were really complimentary of the interview. I did get to meet him very briefly at Boy George's record release party and all I can say about that was – wow – that boy is tall!
7. Meeting Andy Bell of Erasure – He's one of my pop idols and getting to interview him was like a dream come true. Andy is such a cool guy, very laid-back and not intimidating as I thought he would be. I'll never forget Andy's compliment to me – he told me that I would make an "amazing drag queen". Coming from Andy Bell of Erasure – I took that as a MASSIVE compliment!
8. Bright Light Bright Light – Out of all the popstars I've promo'd this year, the one I've seen most out and about is Rod Thomas aka Bright Light Bright Light. From playing EQ Live to seeing him at gigs, to hanging out with him for interviews and chats – he's just so lovely. He's the nicest guy you'll ever meet to and totally deserving of major success. I hope 2011 is an even bigger year for Rod.
9. Meeting Beach Girl 5 at Pineapple Studios – I've made it abundantly clear that BG5 are my favorite new girl group and I got invited to hang out with them at Pineapple Studios this year for an interview and to get to know all them. The girls are so amazing and so nice – they gave me lots of signed merch after the interview and have been very supportive of EQ on Twitter this year. I just love them – they spark a fire inside of me with their music and I hope 2011 is the year they break through.
10. Meeting MEN – You know, I wasn't the hugest of fans of MEN to start out with. But after meeting JD Samson and the band, I really connected with the message in their music and after seeing them live – it truly was "a religious experience". Now when they roll into town, I HAVE to go to their shows. They are truly an incredible band and deserve more attention then they are getting. The band were gratious enough to do three guest blogs for EQ this year and I'm ever so grateful that I've become a fan of this indie pop sensation from Brooklyn.