by Dirk van Baren of House of XY
After many months of anticipatory pleasure, last weekend finally saw
the Poptronik Festival come alive in Sitges, Spain for the very first time. We from the House of XY travelled all the way from Amsterdam to
the sunny beaches of Sitges to experience some electropop bliss under the Mediterranean sun.
It all
started on Twitter and Facebook a few months ago. Word spread quickly
about a fresh, new electropop compilation album called This Beat Is POPTRONIK – Volume One, that was offering a
platform to talented, new electronic pop artists that deserved to get their music out
there. After hearing about the the album, we just knew we had to get tickets.
The Poptronik Festival was held on a private beach in front of the iconic Sitges Terramar Hotel and it was the
perfect venue for a brand new music festival. The setup was simple, but incredibly effective. There was so much
talent and passion amongst the performers, that nothing more was needed
than just a fairly basic stage. Every artist, band or DJ that took to
it tore the beach apart with their amazing set and energy.
The Poptronik Festival artists came from all
over the world. Whether it were Garcon Garcon and Parralox from Australia
or SIRPAUL, Adam Tyler and Cazwell from the US, Markus Riva from
Latvia, new Swedish duo Glorious Inc. or locals like YALL and [email protected], they killed
it. Under the scorching sun (and beautiful rising moon) each artist conquered
Sitges effortlessly with their fiercest tracks. Fresh faces from the UK,
like Electrovamp, Woman E, Johnny Lazer, Monarchy, Nina and Bispatial
alternated with veteran performers and legends like Erasure's Andy Bell and Sudha from Faithless.
Whether they'd been around a while or just came on to the
electro pop scene kicking and screaming, all performers had one thing
in common: they love what they do and all of Sitges felt it. When not on
the stage they were just dancing in front of it, to the beats of the
other performers having the time of their lives. There were no egos, there was just love
for music on a sunny beach. An amazing experience.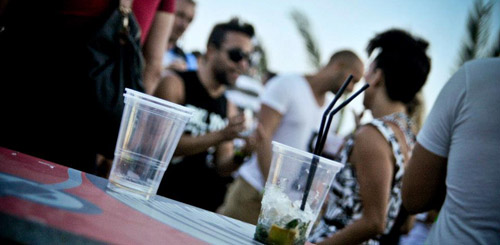 Everyone that missed the actual festival on the beach could still catch
many of the talent in the local bars and nightclubs all over town, at various pre and
after parties. If you missed the Poptronik Festival this first year, you better make sure you look out for it next year as it was an absolutely unmissable explosion
of musical talent (on a sunny beach, get in!)
Check out this great photo album of the Poptronik Festival on Facebook which has been provided courtesy of the Terramar Hotel.
More photos and videos coming soon!