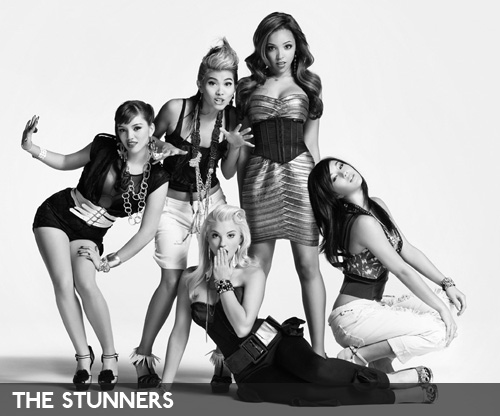 by Adam Tyler

Being a U.S. native, I've never been completely satisfied with the amount of pop in this country!  Sure, we have great music, but a pop music lover sometimes can't quite get a fix from what we have here. That's why I'm excited to write about and introduce The Stunners, a new girl group that is full of it.  Er, pop, I mean.  Even their influences on MySpace include pop greatness in the form of Vitamin C, Rihanna, and The Spice Girls (LEGENDS!). The five stunners (so I guess their name is fitting, right?!) who make up the group seem to be quite genuine ladies in spite of their also being talented actresses!
They burst onto the music scene in Spring '09 with their debut single "Bubblegum" and yeah… it was cute, but it wasn't until I heard their track "Dancing Around the Truth" (great title, by the way!) that I really sat up and took notice. The song starts a some surging bass line that makes me think of Lady Gaga's "Poker Face" and as you get through the song, you hear catchy verses, catchy pre-choruses, a catchy chorus… well, SNAP!  I think we got ourselves a catchy song!
They released a new EP in late October, which includes "Dancing Around theTruth" along with four other great tracks. "Electri-City" and "We Got It" the latter bringing to mind Ke$ha's "TiK ToK" a bit in the verses.  So listen to "Dancing Around the Truth" as soon as you can, and I dare you not to dance — truthfully, even! — while it's playing!

www.thestunnersmusic.com 

www.myspace.com/stunnergroup

EQ Guest Blogger: Adam Tyler 

Adam Tyler is a rising electro-pop musician from California whose been garnering massive attention from the pop blogesphere.  You can hear his new song "Friction" as well as others on his MySpace page and read about him on his official website.  Search "Adam Tyler" in our search bar below to read all about him on EQ.