A few weeks ago, I received an invite to the coolest of coolest album launch parties for Melnyk's "Revolutions".  How could I say no?  With special appearances by Sara Berg and Heartbreak it was basically an electronic music orgasm waiting to explode.  I especially loved that it was at The Player club in Soho – a venue that I had a party at about three years ago, but haven't returned to since.  So with eager ears and a wad of cash I headed down to The Player expecting nothing but a good night of electronic music and drink.
When I arrived, I was over the moon to find out that EQ reader Barnaby had won the contest that Gaymonkey records ran on EQ – they couldn't have picked a more deserving winner!  After a few champagnes, white wines and admiring the illustrious
Sara Berg
from a far (actually across the room), I was in the mood for music and at about 9:30 
Melnyk
took to the laptop to which I thought – "This is going to be good". Boy, was I wrong – it was rather "mind blowing" and you can quote me on that.
The show opener track,
"Revolutions"
was tre cool.  I had no idea that
Sebastian
from
Heartbreak
did the vocals on that song – I had thought it was
Melnyk
himself all along!  After that,
Melynk
did
"We Run"
from the and it was an electro-disco sensation.  I have to admit, I was surprised he did this one, but pleasantly pleased all at the same time.  In a moment to re-visit an early track from his critically-acclaimed
"Silence"
album,
Melnyk
did
"Strut"
, accompanied by the beautiful
Sara Berg
 who just shone bright star on the night.  She has a magical quality to her vocals that just draws you in – whether you like her or not.  She's just genius and I don't write about her enough on EQ.  I'm hoping to change that actually, but I digress. The next song on the setlist was
"The Competition"
which is probably my favourite song from
"Revolutions"
.  It has a gorgeous synthy backdrop covered again by Sara's lovely vocals.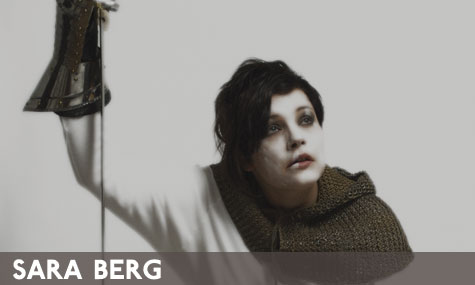 However the penultimate song on the setlist, "
Deal With God"
totally made my head explode like a smashing pumpkin.  It's a cover of the
Kate Bush
classic
"Running Up That Hill"
and it's out of this world EQs! The best cover version of this song that I ever heard.  I looked over at Barnaby and you could tell he was imploding with delight as well.  Barnaby reckons
"Running Up That Hill"
is one of the most spontaneously covered songs of all time.  I might have to agree with him there.  But with
Melnyk
and
Sara Berg
doing it, it's pure electronic bliss to say the least.  Still basking in the sheer delight of having heard
"Deal With God", 
Melnyk
delivered his most recognizable tune
"Fabulous"
which was met with loads of cheers and applaud.  It was the perfect weapon to close out the set.
After the show and a few more drinks and conversations with
Melynk
 (real name Jeff) and the lovely Gaymonkey staff I decided that I wanted to get to know
Sara Berg
more and I boldly introduced myself to her.  Her reaction was
"Darling, would you like to join me for a cigarette?"
.  Now, I totally don't smoke, but when
Sara Berg
asks you to join her for a ciggy, you don't fucking say no!  More drinks and conversation followed and in my brief time with Sara I found out that she's actually doing her next album in Swedish.  Although with Sweden being her home country, she's finding it more challenging to do songs in Swedish versus English – which I found quite interesting.  Swedish or English – hell, I'm still downloading it.
Woke up the next day, slightly hungover, still in delight.  I played
Heartbreak's
album
"Lies"
about 200 times and there is an EQ review coming on that one very soon.  I also re-visited Sara's last album
"When I Was A Young Child I Used To Feel Pleasure Playing With Others"
which wins the award for longest album title ever, but with an artist like
Sara Berg
, you quickly learn that conventionality is thrown out the window.  I scoured the internet for
"Deal With God"
but it doesn't exist online yet.  Still being kept under lock and key on Melnyk's laptop which is probably a good thing, but if the masses heard this, I think
Melnyk
and Sara would pick up a ton of new fans…something to ponder.  All in all – I have to say that
Melnyk
is just amazing.  He's got great people and musicians around him, he makes some rather innovative and pleasing electronic music and being the driving force behind a very exclusive record label like Gaymonkey, he forever has a fan in the way of EQ.  
You should be a fan too.  Fuck the credit crunch, get out your debit card now.

Download
Melnyk's "Revolutions"
now.

Download
Sara Berg's "When I Was A Young Child I Used To Feel Pleasure From Playing With Others"
now.

Download
Heartbreak's "Lies"
now.
And if all that wasn't enough, here's three more reasons that you should love Melnyk.
He collaborates with

Temposhark

all the time.  "

Hurricane"

is actually a re-work of

"Knock Me Out"

on the

"Revolutions"

album.
He collaborates with

Ebb

.  Another EQ approved artist that I adore.
He did a

"Im With Stupid"

remix for

Pet Shop Boys

– respect.