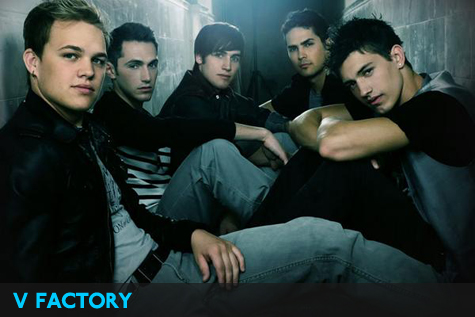 They are Warners new money making machine and like
JLS
over here in the UK, I'm a little shy about admitting that I like them.  As a lover of pure pop and electro though,
"Love Struck"
can hardly go by un-noticed in my iTunes.  It's just the old rule though, a good song is a good song, and
"Love Struck"
ticks all the buttons for me.
Actually, if you want to narrow it down a bit, there are three further reasons why I like
V Factory
at the moment…
Reason One = The Darin Factor
"Love Struck"
was written by team
Darin Zanyar
and he is like…one of my favourite international pop pimpers y'know.  He even sings background on the track.
Reason Two = The Tommy Page Connection
V Factory
are rep'd by none other than one of my most respected musicians of all time –
Tommy Page
.
Reason Three = They have a perverted name…
Well, with a name like
V Factory
, you kinda have to guess at what the "V" actually stands for.  Only one "V" word comes to mind in that mind-in-the-gutter sorta way…and with boyband looks like they have – I can only assume that the boys are churning out the "Vs" in their factory at quite a marketable rate.
So that's it really – the EQ verdict on
V Factory
.  I've been listening to
"Love Struck"
for quite awhile now and only wrote about it until now, the day after the low-fi video spurted itself all over the interweb.  I'm not completely sold however on their other
MySpace
 tracks though, so
"Love Stuck"
could just be a flash in the pop pan for me…we'll just have to wait and see…