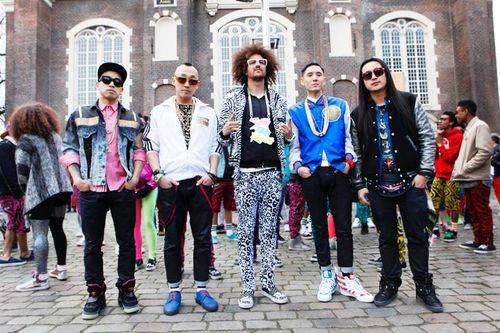 by Raj Rudolph
Despite what you think of LMFAO and their crazy-ass antics, no one can deny, the guys make extremely fun music. Yes, whilst albeit a bit silly, the whole party rockin shtick is not to be taken too seriously. If you do take LMFAO too seriously, you aren't quite getting it.
Enter Far East Movement – their new track "Live My Life" is pure magic. I don't even mind that the Bieber appears on the track as well, his vocal sounds uplifting and paints him in a new light for me. Yes, the Bieber is growing up and maturing (the voice changing too) in his sound and I hope that "Live My Life" is reprsentative of what we can expect for Justin in the future – I might even become a full-fledged fan.
Having gotten to hang with Kev Nish and Redfoo a couple weeks ago when Cherrytree Records rolled up into Birmingham, I can easily tell you, the encore performance of the Party Rock Remix for "Live My Life" was by FAR the highlight of the evening. Far East Movement continue to be one of my favourite bands on the scene and the sound of their "Dirty Bass" sets the standard for me when it comes to contemporary urban poetry set to electronics. I can't wait to hear some of the new tracks on "Dirty Bass" – what I heard in Birmingham just blew me away.
Check out the video and if you missed our recent interview with Kev Nish of Far East Movement, get caught up on that right here, right now. Download "Live My Life" below and if you're a fan of the Redfoo remix, you can get that too right now on iTunes.