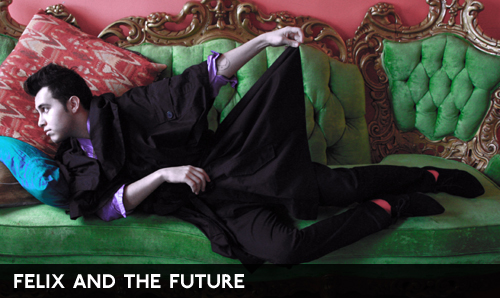 You know how much I am a sucker for quirky pop and slightly left-field.
Well today is no exception as EQ presents to you the brand new video for "Apollonia" by the amazing Felix and The Future. Beautifully shot in shot on location in Real De Catorce, Mexico, an abandoned silvering mining town in the mountains of Central Mexico. "Apollonia" embodies drama, passion and beauty as Felix battles a giant dodo bird in a bullfighting ring.
We asked Felix to commente on the video and track and this is what the rising musician had to say about the track:
"I wrote Apollonia one summer afternoon after a tumultuous year of ridding myself of people who wanted only the worst for me. I had a fear of writing for about 2 years, and suddenly I went over to my piano, in my 6'X6' room and conjured up "Apollonia". In the song, I cross the Atlantic and meet Gandhi, yet am still very disconnected from all of life's splendors until I meet Apollonia. She leads me to the Carnival and I haven't turn back since.
The concept for the music video is to show two versions of a dreamer and his potential. One is a tired vagabond living in the past, performing for an audience that doesn't exist. The other is a confident and strong bullfighter battling "The Giant Dodo". The video, like the song, ends triumphantly – defeating the Dodo and looking towards the future. Coincidentally after this video was finished, I embraced my full name: Felix and the Future."
I really love this track and video – Felix and The Future is like a new Patrick Wolf if you ask me and I do have my eyes firmly locked on him – so should you.