Oh yes EQs – it's a tie this year!
EQ's favourite artists this year were undoubtedly the pop sensations that are
Sergey Lazarev
and
Doe Deere
!  When choosing this year's recipients for EQ Of The Year Award, these two artists really stood out by a mile, for they represent the true essence of this blog.  They are both unique, extremely talented, versatile and create some rather stomping pop music that is a delight for the senses.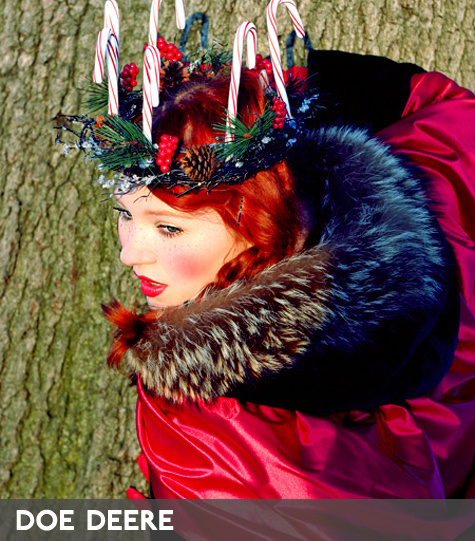 In coincidence, both artists are of Russian decent as well – and not that well known globally for that matter of fact either – and this made EQ love them even more in 2008.  I had the chance to meet both of them this year in London and New York City and they are both lovely people, down-to-earth and everything that they've produced in 2008 just made EQ giddy with excitement.
Sergey Lazarev
– Although this year didn't see the release of his UK album as promised, what
Sergey
is doing still really excites me to no description.  With a back catalog of pop perfection and UK single
"Girlfriend"
and Russian electro single "
Lazerboy"
wowing me beyond belief, we also were treated to the pop pleasure that was
"Flyer (Under Fire)"
– which didn't win
Sergey
a place in Eurovision, but it did win over the ears of EQ forever.  A talented actor as well,
Sergey
lives to entertain his fans and lovers of pop music and he works rather extremely hard at it.  Meeting
Sergey
in London for an interview was really a dream come true for me.  Seeing him bring his show to Heaven this year was even more exciting. Constantly evolving his sound to sound modern, yet relevant, I don't think we've seen the best from
Sergey
just yet.  His potential to be a world class superstar is endless and I look forward to being a superfan of his for years to come.  
Doe Deere
– I first encountered
Doe Deere
earlier this year when she left simple comment left on the blog saying that she thought EQ would like her music.  As curiosity set in, I found that I didn't love her music – I became obsessed over it.  Conjuring up an 80's sound with pop hooks and attitude never sounded so fresh in my opinion.  Her EP
"Supernatural"
became the soundtrack to my life for about a month. Whenever PRs or friends asked me who I thought was fresh, I quickly whipped out a
"Supernatural"
EP from my bag and said "listen to this"…  Meeting
Doe Deere
in New York City was a true delight too – she's the cutest and quirkiest pop star you ever met too (I mean look at her – she's wearing candy canes!).  To me,
Doe Deere
is everything that a pop star should be.  Uber brilliant, quirky and interesting, inventive and showing signs of humble versatility in her work are the things that make Doe Deere stand out. Not only did
Doe Deere
release a must own pop EP in 2008, she also has become a noted beauty and pop culture blogger with the 
Doe Deere Blogazine
and her own line of
"so bright it's criminal"
make-up called
"Lime Crime"
that has girls all over America squealing with glittery delight.  When are you coming out with a men's line Doe?  She's smart.  She's building her own community of faithful followers and with that sort of ambition, EQ thinks she going to be around for a long time.
So there you have it –
Sergey Lazarev
and
Doe Deere
join
Antigone
and
Darren Hayes
as top artists on the EQ blog.  Also a special huge "thank you for the music" hug goes out to
Juvelen, Lady Gaga, James Leon and Temposhark
for being utterly fantastic and unique musicians this year as well – EQ looks forward to all your new tunes and clever antics in 2009.